5 Facts About BET Hip Hop Awards Nominee Bleu
Did you know a NBA star helped him get a Drake feature?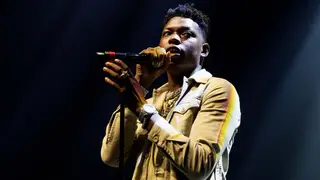 He DM'd Boosie's Brother

Although Bleu had been making waves of success early on in his career — with his 2013 buzzing single "Go Head," produced by Drumma Boy, doing well and his 2016 Bleu Da Ruler mixtape birthing the viral hit "Miss It" — he knew he wanted more for himself. 

With sights on Boosie's Badazz Music Syndicate record label, he sent a direct messages to music producer Taquari Hatch — the brother and manager of Louisiana rapper Boosie. 

"I was looking to get into the music industry by any means necessary," he tells The Undefeated in an interview. "I was thinking to myself, this guy probably has a thousand people in his DMs right now sending him music. So I decided to get creative, scroll through his followers to find someone that's close to him and found his brother's page. I tried my luck, DM'd him and he hit me back and everything came together from there. It was the smartest decision I ever made."

Demarcus Cousins Helped Secure His Drake Feature

"You're Mines Still" is undoubtedly Bleu's biggest song, which he, in part, owes to Drake for the vocals. But what you might not know is that owes a big thanks to NBA All-Star Demarcus Cousins as well. 

Bleu reveals in an interview that The Los Angeles Clipper, who is also from Mobile, Alabama, introduced Drake to his music, which later helped in recruiting him for the feature.

His Father Inspired His Artistry

While Bleu started rapping at 11, it was his father who helped instill the heart of a performer in him. 

"My dad really helped me get comfortable performing in front of people," he tells The Undefeated . "Growing up, he would make me sing for people and that eventually led to me writing my own songs and melodies."

Drumma Boy Help Craft His Name

The meaning behind Bleu's name is simple: it's his favorite color. The spelling, however, is a byproduct of super producer Drumma Boy. 

He tells Flaunt Magazine the platinum-selling producer gave him a CD of the single they had out ("Go Head") with his name misspelled. "I'm like, "I'm just going to keep it like that."

Vandross is His Alter Ego

Bleu Vandross is Blue's different persona. "It's like Bleu Vandross is kind of like when I go, like, full R&B mode," he tells Revolt. 

He also cites Luther Vandross as one of his inspirations.