Sisterly Love!: The Combs Twins Rock Matching Outfits While Sharing A Heartwarming Moment With Their Baby Sister
So adorable!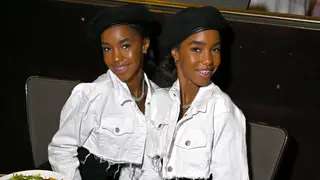 It's no secret that there are some seriously stylish celebrity kids out there! Keep scrolling to see our favorite fashion moments from the little ones:
The Combs Twins And Baby Love

The Combs Twins already share an unbreakable bond with their baby sister, Love Sean Combs! On Valentine's Day, Jessie and D'Lila posted this heartwarming photo showing how they spent the holiday in cozy pink looks. So adorable!

Sovereign Nancy Bo Raymond

Usher wishes his sweet daughter, Sovereign, a happy 2nd birthday in a heartfelt Instagram post. The adorable tot is posing in a suit like a boss baby. It is the cutest thing you'll see today!

Sumajestad Royalty and Sualteza Empress

Amara La Negra is cherishing every moment with her twin daughters, Sumajestad Royalty and Sualteza Empress! The proud mom recently took to Instagram to celebrate her baby girls' 6-month milestone. 

She captioned the adorable footage, "We are Happy Babies because we are being raised with love! And joy fullness! We are Blessed babies and we are Queens."

Capri Bryant

Vanessa Bryant wishes her beautiful baby girl Capri a happy 3rd birthday. Capri is wearing a red dress with a matching red bow in her hair. She is having fun in the sun with her mom.  How adorable!

Monaco Mai Jenkins

Monaco Mai Jenkins has a beautiful smile! The 5-month-old daughter of Jeezy and Jeannie Mai Jenkins left fans swooning with this cheerful snapshot that showed off her custom onesie. See how the cutie used fashion to rep her Uncle E40!

Monaco Mai Jenkins

Monaco Mai Jenkins is stealing hearts on social media! The infant daughter of Jeezy and Jeannie Mai Jenkins recently made her social media debut, and fans cannot get over how adorable she looks in her stylish baby fashions. She's even accumulated  100K followers on her personal IG. See the cutie, above! 

Stormi Webster

Stormi is a stylish little toddler. The 4-year-old tot walked the blue carpet at the Billboard Awards with her parents and the little lady stole the show! Stormi wore a custom one-shoulder dress with a pair of Rick Owens sneakers while holding her mom's hand. She is too cute! 

Pilar Jhena

Porsha's adorable daughter PJ is styling in the cutest little dress that she picked out herself. The former 'RHOA' star shared a photo of her 3-year-old daughter posing for the camera and asked mama, P to snap a pic of her. How cute! 

Kulture Kiari

It doesn't look like Cardi B's 3-year-old daughter, Kulture needs anymore siblings anytime soon. The adorable tot says that her baby brother is "perfect". 

In the video shared to Instagram stories, Cardi asks, "You want me to have another baby?" Kulture quickly responded, "No!"

When the musician asked her daughter why, the toddler explained that she's perfectly content with her 5-month-old little brother. "Because I like my baby brother. He's perfect," Kulture said. How sweet! 

Reign Beaux Rushing

Reign turns 4! Proud mom Toya shares a stylish photo of her baby girl on her 4th birthday. The adorable tot wore a light pink dress with a matching pink bow in her hair. Toya also hosted a bounce party for her baby girl surrounded by family and celebrity friends. How sweet!

Cali Richardson

Cali Richardson has some serious baby swag! Dressed in a fashionable tulle dress, the daughter of Love And Hip Hop stars Scrappy and Bambi recently snapped a few photos posed amongst balloons and colorful decor to highlight her 6-month birth milestone. Cuteness overload!

Olympia Ohanian

Serena Williams' daughter Olympia has major tennis skills at only 4-years-old! The adorable tot hit an oncoming tennis ball with a perfect backhand swing in a video uploaded to her personal Instagram account. 

The little one even looked the part as she was decked out in an adorable tennis outfit consisting of a black-and-white sweatshirt and matching black leggings. How cute! It looks like she may be following in her mom and aunty's footsteps! 

Hunter Zoelle James

Zonnique Pullins and Bandhunta Izzy's baby girl is officially 1! The proud parents celebrated the big milestone with a photoshoot of Baby Hunter rocking designer threads, including a Burberry dress.

"Happy 1st Birthday to my forever! My reason! My bratz doll! My whole WORLD," the new mom captioned a carousel of images on Instagram. "You gave me the name mommy and I will always protect you for doing just that! I love you Hunter Zoelle."

Aww, how heartfelt! Join us in wishing Hunter all the best on her birthday! May she enjoy many, many more. 

Kaori Mai Hart

Eniko and Kevin Hart celebrated their daughter, Kaori's 1st birthday. Proud mama, Eniko shared the sweetest photos on Instagram of Kaori in the cutest tutu skirt. Baby girl wore a blue onesie and a matching baby blue bow in her hair. Aww, so adorable! 

Adonis Graham

Proud papa Drake recently shared a pic of his adorable son, Adonis rocking a Lebron James Lakers jersey. The 3-year-old tot is a for sure a future baller rocking a pair of Nike Airmax with uncle Bron's jersey while enjoy his lunch.

Adonis's braids were styled pretty cool with a heart in the front of his head. We can't get enough of baby boy's style!

Kaavia James Wade

Kaavia James is a mini fashionista, and she means business! Gabrielle Union and D. Wade's adorable tot posed in a custom blue and pink striped Thom Browne outfit with a pair od pink vans. This little boss baby is serving face while her baby hairs are laid to perfection. " Secure the bag," read her caption along with "Baby Hairz & Thombrowne." 

This boss baby is too cute! 

Sienna Princess Wilson

Ciara and Russell Wilson have a mini model on their hands! While spending quality time with her mom, Sienna Princess snapped this stylish photo, posing in her mom's chic leopard-print dress. There's no question that the 4-year-old cutie has a future in fashion. So sweet!  

Kulture Kiari Cephus

After pulling out all the stops in celebration of Kulture's 3rd birthday, Cardi B and the family headed out for a day of fun at American Dream's megamall theme park in New Jersey. Above, check out the videos showing the birthday girl wearing Gucci and spending quality time with her siblings.

For the full-filed day, the pregnant rapper sported a $250 long-sleeved bodysuit and 6-print leggings by MM6 Maison Margiela. Aww, just look at that growing baby bump! 

Kulture Kiari Cephus

Cardi B's latest Instagram video of Baby Kulture is going viral! In the video, the toddler looked hilariously annoyed at her mom's laughter. "Type of my mom I am," the pregnant rapper captioned the cllip. "Ion care if you mad gurrlllll."

However, the funny little moment did not take away from the darling ocean-blue tutu that made the 3-year-old cutie look like a budding ballerina. So adorable!

Future And Win Wilson

Little Future and Baby Win Wilson are all smiles as they pose for a series of photos for Russell Wilson's upcoming kids clothing line, 3Brand.

Wilson's 3Brand line is coming to Rookie USA Flagship at Union Square on June 24th, 2021. The new kids' line is being designed, sourced, manufactured, and distributed by Haddad Brands.

The number three has lots of meaning for Wilson, who wears it on his football uniform. He was a third-round NFL draft choice and 3Brand is donating 3% of its sales to the Why Not You Foundation, founded in 2014 by Wilson and Ciara. The little ones are too cute!

Alexis Olympia Ohanian, Jr.

Olympia Ohanian already exudes her mother's swag! While practicing her tennis moves, the 3-year-old cutie took a quick break to snap a few photos rocking a black, red, and pink Nike catsuit. 

If you look closely, you may recall that the tennis ensemble is a replica of the one-legged outfit her mom Serena Williams wore during the Australian Open tennis tournament. So adorable!  

Natalia Bryant

Over the weekend, Natalia Bryant attended her senior prom. Naturally, fans can't believe how fast time is flying by. 

In an Instagram post, the daughter of Vanessa Bryant and the late Kobe Bryant excitedly showed off the pink off-the-shoulder tulle gown she wore for the momentous occasion. 

The stylish teenager accessorized her look with a pendant necklace, delicate sandals, and a matching pink and white corsage. Even still, her best accessory of the night was her bright smile!

Aeko Brown

Aeko Brown keeps us swooning!

Once again, Chris Brown's adorable son found a way to win over our hearts when he snapped this photo for his mommy wearing a $450 Gucci Cardigan. 

How cute is this little one? There's no denying, the 1-year-old cutie is already a trendsetter. 

Violet Nash And Baby Kenna

Christina Milian shared a sweet photo of her daughter Violet and youngest son, Kenna. The beautiful kids are both wearing light blue while Violet is in pure bliss over her youngest brother. Christina gushed about her babies on Instagram. "I feel like Kenna recognizes his big sister from all the time she spent talking to him in my belly. He's literally so calm and just stares at her. 😍 I love my kids. #luckymom." 

Kulture Kiari

Cardi B's baby girl, Kulture is too cute! The adorable 3-year-old posed for a pic wearing a pink ruffle Givency swimsuit. "I love her sooo much @kulturekiari such a girly girl 🎀," read Cardi's caption. 

It looks like Kulture enjoyed her Valentine's Day vacation right along with her parents. 

Kaavia James Union Wade

Over the weekend, the actress and former NBA star posted this photo of the 2-year-old cutie heading to brunch at home in her most stylish threads and we cannot get over her swag.  

The famous parents, who manage Kaavia's Instagram page more than 1.4 million loyal followers captioned the photo: "Girl, bye. I asked you 'Who all gonna be there?'"

We cannot take this cuteness overload! 

Reign Beaux

Toya Johnson's 2-Year-Old Daughter Reign is a budding make-up artist. The adorable toddler played in her moms make-up penciling in her eyebrows. Toya recording Reign explaining that she's a 'make-up stylist,' how cute! 

Reign is wearing a pink Juicy Couture sweatsuit with her hair styled in two ponytails. It looks like Toya has a little artist in the making!

Win Harrison Wilson

Baby Win Harrison Wilson keeps us swooning! Once again, Ciara and Russell Wilson's adorable newborn found a way to win over our hearts when he snapped this photo for his mommy wearing a $450 Gucci Wool Romper. 

How cute is this baby boy? There's no denying, the 2-month-old cutie is already a trendsetter. 

Aeko Catori Brown

Chris Brown's son Aeko Catori Brown is his seriously his twin! 

Ammika Harris recently posted this photo of her baby boy rocking a sold-out Burberry jacket, and fans couldn't help but notice the resemblance between the singer and his 7-month-old. 

"Prince Charming. Blonde babyyyy," Ammika captioned the photo. 

Too precious! This has to be one of the cutest moments we've seen all day.

Kulture Kiari Cephus

The adorable 1-year-old smiled in the camera as her parents tried to take a photo together. Cardi posted the photo to Instagram with the caption that read:

"Guess who photobomb me and @offsetyrn picture ? And she know she did it on purpose."

Sienna Wilson

She get it from her mama! Ciara and Russell Wilson's 3-year-old daughter, Sienna struck the cutest pose in a $130 Burberry swimsuit. Ciara's caption read: "She Said She's Posing Like Mommy. My Little Princess ☺️🥰"

You may get the swimsuit here! 

Kulture Kiari Cephus

Kulture is following in her mother Cardi B's fashionable footsteps. 

The 27-year-old performer took to social media to share a new picture of her one-year-old daughter rocking a new outfit. The standout style responsible for this super cute look? The eye-catching cowboy boots, of course! Purchased by Cardi's little sister Hennessy Carolina, the footwear pulled the adorable ensemble together. 

In the photo, baby Kulture is sitting in a chair dressed to the nines in her denim outfit with a pink fur and cowboy hat to match. "I try to take pics 😩🙄🙄 Style by me. Thanks auntie @hennessycarolina for my cowgirl boots Fur: @iamjenniferle" the Press rapper wrote alongside the sweet photo.

Cardi may be another career in styling because this outfit is too cute! 

Kulture Kiari Cephus

Cardi B posted the cutest video of baby Kulrure wearing a red and blue metallic Gucci beenie hat ($170), with a matching red sweatsuit ($1600), before jet setting off to Africa. This 1-year-old has more style than most adults!

Kulture Kiari Cephus

Styled by her mommy in head-to-toe Gucci gear, Cardi B and Offset's 1-year-old daughter, Kulture Kiari Cephus proved that she's destined to secure the bag!