Bethenny Frankel Defends Ray J Amid Kim Kardashian Sex Tape Fiasco
He recently uploaded a 44-minute video detailing his side of the story.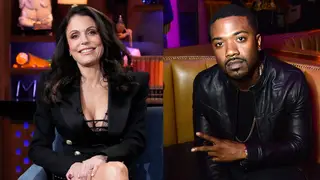 Real Housewives of New York City alum Bethenny Frankel is sounding off in response to the Ray J and Kim Kardashian sex tape drama.
Frankel headed to her Instagram story to share her thoughts about the 15-year-old tape and claimed that it was "common knowledge" that Kardashian and her mom Kris Jenner were "involved" in the making of the scandalous video.
"I bet that Ray J just hasn't been properly compensated and he's been embarrassed in front of his family, and they keep exploiting it and capitalizing on it," Frankel said, according to Page Six. "Ray J should get 10 percent commission for [lighting] the flame that created America's first family."
Frankel later created a TikTok video further defending Ray J.
"Why is everybody acting like this didn't happen?" she continued. "This poor guy finally cracked because he's gotta explain to his kids why he looks like he exploited someone else and why he's left holding the bag."
Ray J recently uploaded a 44-minute Instagram video to expose the Kardashian and Jenner about what went on behind the scenes of the sex tape release.
"YOU f**ked with THE WRONG BLACK MAN krisjenner @kimkardashian," Ray J captioned his post.
"I DONT GIVE A F–K HOW OLD THIS S–T IS!! WHAT YOU TRYING TO DO TO ME IS ALMOST INHUMANE AND FOUL AT THE HIGHEST LEVEL — F–K THIS BEING JUST RACIST — THIS IS WRONG TO DO TO ANYBODY — YOU THINK YOU CAN JUST F–K PEOPLE OVER AND GET AWAY WITH IT FOREVER!!!," he also wrote in his caption.
Watch his full video here.