SZA And Keke Palmer's 'Saturday Night Live' Promo Is Hilariously Messy
Palmer also posted a video of her showing Angela Bassett her impersonation of the acclaimed actress.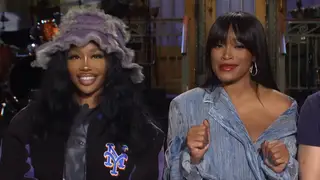 There's just a little something off about Bowen Yang when he tries to stick the introduction promo to this weekend's episode of Saturday Night Live.
Tomorrow night (December 3), Keke Palmer is slated to guest host the weekly comedy program with musical guest SZA, who is preparing to release her sophomore studio album S.O.S. In the video hit, the Nope star says, "Hi, I'm Keke Palmer and I'm hosting Saturday Night Live this week with musical guest SZA."
"And I'm Brown Yang and we're gonna have such a… did i just say 'Brown Yang?'," Yang asks the co-stars as they laugh nervously. "I can't even read my own name. Sorry Guys! I am Bowen Young and we're gonna… oh my God. Brown Yung! What's happening right now?," Yang adds.
"Are you okay Bowen?," a concerned Palmer asks. He assures he's fine and repeats his first name as evidence. It all is a tongue-in-cheek play on his nervousness, which ends with him referring to SZA as "scissors."
In a second promo, the trio guarantee Saturday night's episode is going to be epic.
The hit comes just a day after SZA revealed the artwork for her highly-anticipated LP S.O.S. The project still doesn't have a confirmed release date, however it's expected to drop this month.
As for Palmer, she recently reunited with Angela Bassett 16 years after playing mother and daughter in Akeelah and the Bee for Vanity Fair. Palmer, who occasionally goes viral for her Bassett impersonation, got to show the award-winning actress her rendition of Basset's portrayal of Katherine Jackson from The Jackson's: An American Dream movie.
Saturday Night Live airs Saturday at 11:30 pm EST/8:30 pm PST on NBC and streams live on Peacock. Check out the promo for it below.