DaBaby Sends Well Wishes To Trespasser He Shot
"Heal up & live my boy!"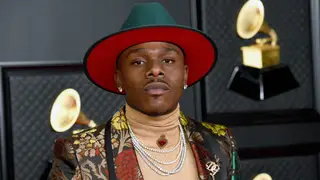 DaBaby wants a wounded intruder at his North Carolina estate to know that it's all good – as long as he doesn't come back.
According to PEOPLE, the rapper was the target of an unwanted guest who he shot in order to defend himself and his home. Taking to his Instagram account, DaBaby posted a legendary Paid In Full clip and a caption that was both a recap of what happened, and also a warning.
"Chose not to take a n***a life the other day & it felt great," he wrote in the caption. 

"Buddy ain't deserve to go, I step righteously. 

Heal up & live my boy! 
Just don't bring ya ass back."
According to TMZ, the rapper exchanged words with the trespasser before shooting him in the leg and calling 911. During the call, the man is heard screaming in pain as DaBaby asked that the operator send help.
Additionally, TMZ reports that DaBaby has already moved on and spent his Friday night (April 15) at the Platinum Club in Dallas.