OPINION: The SCOTUS Roe v. Wade Draft – Never Forget Women's Rights, Civil Rights, And Human Rights Are Intertwined
The possibility of overturning the landmark 1973 decision reveals a more insidious intent to attack the rights Americans of diverse backgrounds have long enjoyed.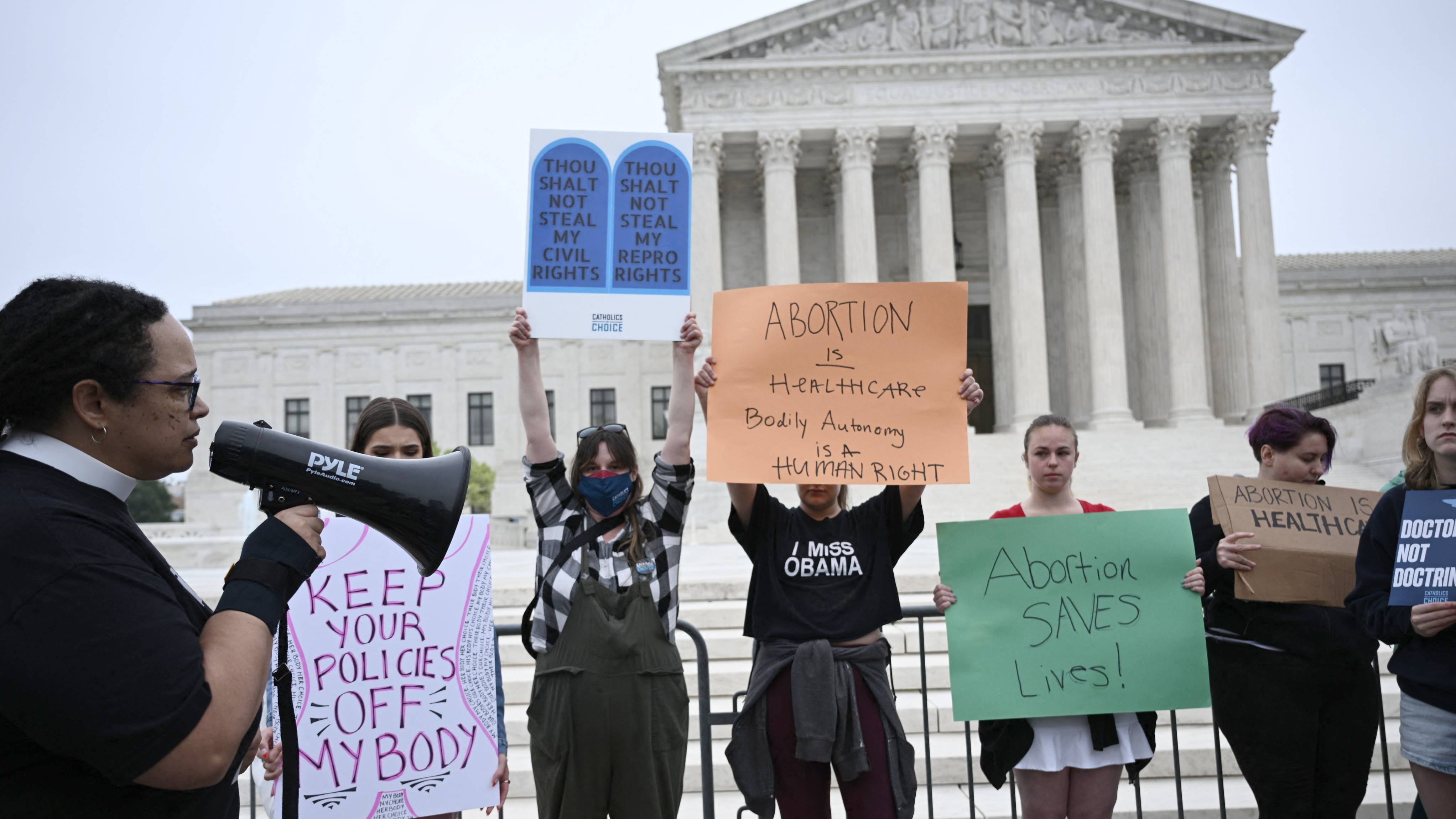 This week a leak of the Supreme Court's draft opinion determining the fate of abortion rights revealed that its five-person Republican-appointed majority—including three justices selected by Donald Trump—agree that the rights of a fetus supersede the rights of a woman. If adopted as is, the draft opinion written by Justice Samuel Alito would invalidate Roe vs. Wade, eviscerate the Constitutional right to privacy upon which the original law was based, and set women's rights back more than 50 years.
Those who primarily fight for civil rights and/or LGBTQ rights should understand clearly that the Supreme Court's judicial assault on women's rights is also an attack on their rights also, and vice versa. For racism, sexism, heterosexism, and genderism are interlocking oppressions that operate in similar ways and relegate groups who have been historically marginalized to second class status. Hence the need for protective laws that shield these groups from actions seeking to erode their full rights and citizenship.
It is safe to say that America has been in various stages of a cold civil war with battle lines defined by politics, policy, economics, identity, and culture for more than a century. While brief periods of respite from the intensity of this ongoing war have lulled the naive into believing that the progress made by the civil rights, women's rights, and human rights movements have vanquished the opposition, nothing could be further from the truth.
Undeterred, Republicans have been working to plan and deploy federal, state, and local strategies that dismantle with laser precision the pillars upon which these gains were built; going after especially—but not exclusively—policies that promote political and economic empowerment from groups of people they seek to sideline and/or oppress.
First up for conservative bat was voting rights. Although Republicans have not (yet) sought to repeal the 15th and 19th Amendments, which gave Black men formerly held as slaves and women respectively the right to vote, they scored a major victory in 2013 when the Supreme Court gutted the Voting Rights Act of 1965 by making it unconstitutional to use section 4(b) to determine which states had to follow the law's preclearance requirements. With this move, they repealed the very mechanism intended to prevent "entrenched racial discrimination in voting" that has occurred in certain states throughout U.S. history. Without a viable enforcement mechanism forcing states to behave, the Brennan Center for Justice reports that 19 of states had passed laws making it harder to vote by the end of 2021.
It is not an accident that there is sizable overlap between states that have passed restrictive voting laws and the 23 states that have laws or constitutional amendments already in place that would facilitate their ability to ban abortion should the Supreme Court's draft opinion be adopted. They are all Republican-majority states following the conservative playbook. Republicans say they are against abortion because they are pro-life. Yet their claims fall to pieces when considering their support for the death penalty, unregulated gun ownership, and other policies that promote a flagrant disregard for human life.
If Republicans were honest, they would admit that they are using the levers of government to deny women the right to control their own bodies because they want to force women to crank out babies while diminishing women's economic security and increasing their socioeconomic dependence on men. With white birth rates in decline, these patriarchal nationalists also likely see it as a matter of racial survival.

RELATED: A Leaked Supreme Court Opinion, Abortion And Women's Health: What's Really At Stake
Republicans are not done with their take down of efforts to move our country toward a more perfect union. The Supreme Court is also expected to decide an important affirmative action case in this session and prognosticators say the court's Republican majority is likely to scrap it, striking at the heart of the policy that have given women, African Americans, and other people of color greater access to higher education and business opportunities for more than a half century. Further, legal efforts are currently underway to block racial equity policies on the grounds that they discriminate against white people, conveniently forgetting that white people have used public policy to discriminate against African Americans throughout our nation's history.
LGBTQ groups are not out of the woods and religious minorities shouldn't get comfortable. Republican dominated states are banning books with Black, LGBTQ, and Nazi holocaust themes alike. Florida and other conservative states are testing the legal waters with "don't say gay" laws which will likely wend their way through the courts to challenge gay rights.
Much has been made about the segment in Alito's draft opinion where he argues that rescinding the right to privacy in the case of abortion would not apply to same sex marriage because it doesn't result in the termination of a fetus. But a twisted reading of Alito's text in a future where the American Taliban has been fully empowered could lead some to argue that same sex marriage must be made illegal again because it subverts fertility by making it impossible to establish a viable fetus. Yes, this argument sounds insane but so is the Supreme Court's draft opinion which makes a living women's human rights subordinate to the rights of a fetus that is not alive.
Right now the dominos of social progress are falling one by one according to Republican plan. It is not clear that Democrats, who failed to field the necessary votes to protect voting rights, are prepared to effectively protect any other threatened right. What is clear is that those of us in these targeted and overlapping groups (i.e. women and LGBTQ people are of all races and ethnicities so those who pretend their preferred group is distinct from any other is operating in bad faith) cannot afford to turn our backs on any group whose rights are threatened. Nor can we afford to turn our backs on politics. For we are in the midst of a rights revolution and must find common cause with people all backgrounds to defeat every threat to our freedoms.
Dr. Maya Rockeymoore Cummings is Founder/President/CEO of Global Policy Solutions and a nonresident senior fellow at the Brookings Institution. Her book RAGEISM: Race, Ageism, and the Quest for Liberation Policy (Routledge Press) is forthcoming.