Pakistani Teen Activist Seeks Release of Nigerian Girls
Malala Yousafzai traveled to Nigeria for her 17th birthday to urge Islamic extremists to free the 219 abducted schoolgirls.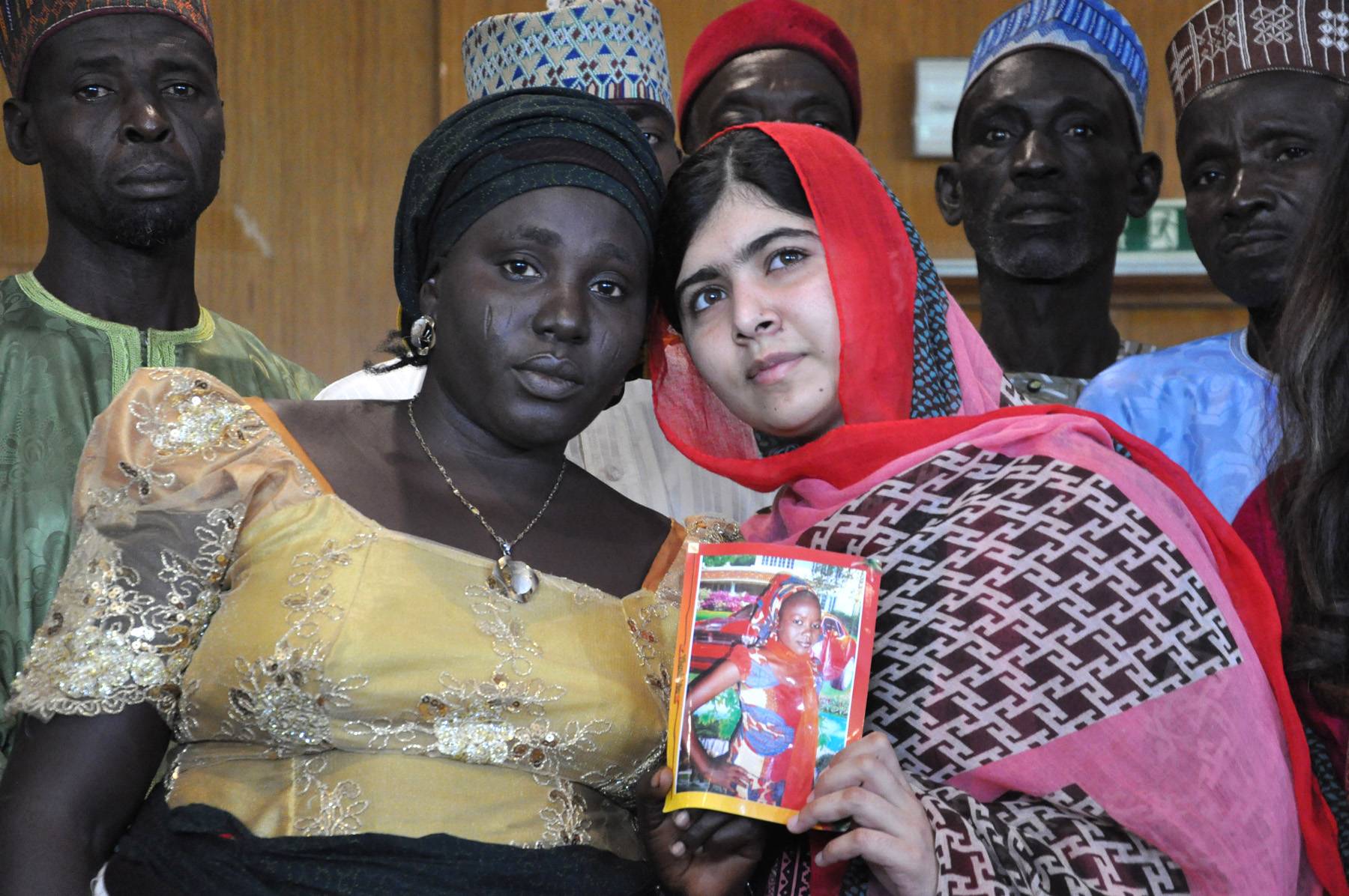 ABUJA, Nigeria (AP) — The Pakistani teen who survived a Taliban assassination attempt in 2012 marked her 17th birthday Monday with a visit to Nigeria and urged Islamic extremists to free the 219 schoolgirls who were kidnapped there, calling them her "sisters."
Malala Yousafzai, who has become an international symbol for women's rights in the face of hard-line Islam, said Nigeria's president promised to meet for the first time with the abducted girls' parents.
"My birthday wish this year is 'Bring Back Our Girls' now and alive," she said, using the social media slogan that has been picked up around the world to demand freedom for the girls, who were abducted by the extremist group Boko Haram in April from a school in the remote northeast Nigerian town of Chibok.
Malala appealed directly to their captors as she held hands with some of the girls who escaped.
"Lay down your weapons. Release your sisters. Release my sisters. Release the daughters of this nation. Let them be free. They have committed no crime."
She added: "You are misusing the name of Islam ... Islam is a religion of peace."
Malala also spoke against the custom of child brides in her home country, a tradition common in Nigeria, too. Boko Haram has threatened to sell some of the girls as brides if its fighters are not freed.
"Protect girls from cruelty," she said in a speech, explaining that girls should not be forced to marry or to leave school to become brides "when they should be girls," or to give birth to children "when they themselves are children."
Boko Haram attacks continued over the weekend with witnesses blaming the group for the bombing of a major bridge on a northeast Nigerian highway that further limits access to its base camps in the Sambisa Forest, where it is believed to be holding some of the girls.
Gunmen destroyed most of the bridge on the road between Maiduguri and Biu on Saturday night, making it impossible for vehicles to cross, the spokesman for the Nigerian Vigilante Group, Abbas Gava, told The Associated Press.
Malala met Monday with Nigeria's President Goodluck Jonathan and told reporters that the president "promised me that the girls will be returned as soon as possible."
She described an emotional meeting Sunday with some of the girls' parents.
"I could see tears in their eyes. They were hopeless. But they seem to have this hope in their hearts," and they were asking if they could meet the president.
Jonathan has not met with any of the parents, though some regularly make the dangerous drive from Chibok to join activists who have held daily rallies in Abuja.
When the activists tried to march peacefully to the presidential villa in May, they were blocked by soldiers and police. Jonathan canceled a planned trip to Chibok that same month.
On Monday, he told Malala that criticism that his government is not doing enough is "wrong and misplaced," according to a presidential statement.
"The great challenge in rescuing the Chibok girls is the need to ensure that they are rescued alive," he said, insisting his government is "actively pursuing all feasible options" to achieve their safe return.
Boko Haram leader Abubakar Shekau put out a new video Sunday in which he repeated demands that the government release detained insurgents in exchange for the girls' freedom.
"Nigerians are saying 'Bring Back Our Girls,' and we are telling Jonathan to bring back our arrested warriors, our army," he said in the video, which was obtained by the AP through similar channels used for previous messages.
Jonathan so far has refused, despite pleas from the parents.
Since the mass abduction, Boko Haram has increased the number and deadliness of its attacks with a two-pronged approach — bombing cities and towns and a scorched-earth strategy in villages, gunning down villagers, looting livestock and burning down huts.
In the new video, Shekau crowed over recent victories, including two explosions at a fuel depot in Lagos that the government tried to cover up. It would be the first reported bombing by Boko Haram in Lagos — Nigeria's commercial capital, an Atlantic port and probably the continent's most populous city with some 20 million people. The attack also raises fears that the insurgency is spreading beyond its stronghold at the opposite end of the country.
At least four people died in the June 25 blasts, including an alleged female suicide bomber, according to Western diplomats who spoke on condition of anonymity because of the sensitivity of the issue.
Shekau also claimed responsibility for another bomb that went off hours before at the biggest shopping mall in Nigeria's capital, Abuja, killing at least 21 people.
On Monday, Malala also appealed to the Nigerian government to dedicate more money to education and to drastically reduce the hundreds of thousands of children who are out of school throughout the country, not just in the area targeted by Boko Haram.
The group's nickname means "Western education is sinful." Boko Haram wants to enforce an Islamic state in Nigeria, whose 170 million people are almost equally divided between Christians in the south and Muslims in the north.
BET Global News - Your source for Black news from around the world, including international politics, health and human rights, the latest celebrity news and more. Click here to subscribe to our newsletter. 

 (Photo: AP Photo/Olamikan Gbemiga)