Jackson Water Crisis State Of Emergency Extended By Mississippi Governor
The order was first issued on August 30.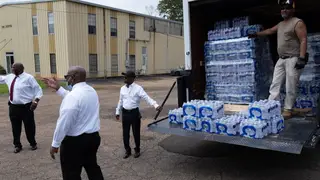 According to a release from Mississippi Governor Tate Reeves' office on Friday (October 28), the state of emergency order for the city of Jackson's water crisis has been extended to November 22.
The first issued order by Reeves was issued on August 30 after major operational failures at Jackson's O.B. Curtis Water Treatment Plant caused widespread problems with the city's water system, including a lack of pressure and brown water coming from faucets and toilets.

"Since I first declared a State of Emergency on August 30, the state has invested nearly $13 million to prop up Jackson's failing water system, distribute water, and restore clean running water to the residents of the city," Reeves said in his statement. "Over this time, the state of Mississippi entered the O.B. Curtis Water Treatment Plant, identified the rampant issues that existed due to years of neglect, and immediately began repair operations."

According to Reeves, Jackson Mayor Chokwe Antar Lumumba said the city will employ a private operator for its water system in place by November 17. The five days between then and when the order will be lifted on the 22nd will be used as a transition period between the state's management and private operators.

Once the state of emergency expires, Reeves said, the water system would go back to local control.
Jackson had been under a boil water notice for more than 40 days, and even since that's been lifted, some residents say they still don't trust the water to drink or cook with.
The state's Health Department and Emergency Management Agency was empowered by the state of emergency to oversee repairs at the water treatment plant until the threat to public safety was deemed over.
Jackson is 82.5 percent Black. Additionally, one out of every 3.5 Jackson residents lives below the poverty line. While President Joe Biden signed a historic Infrastructure Bill last month to assist areas like Jackson, Republican state lawmakers, like many red states with predominantly Black cities, decide where Mississippi's funds go, and Black areas are often ignored.