BREAKING NEWS: Kyle Rittenhouse Found Not Guilty of Deadly 2020 Kenosha Protest Shootings
He claimed self defense in the shooting that took two lives and injured another person, while also claiming to be defending property.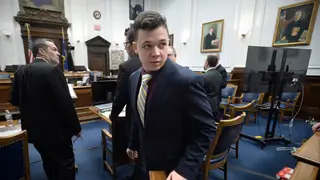 Kyle Rittenhouse the Antioch, Ill., man who traveled to Kenosha, Wis., during protests over the police shooting of Jacob Blake last year, was acquitted of the murder of two people and the wounding of another after a contentious trial.
After four days of deliberation, a jury of five men and seven women voted to free Rittenhouse, who had faced life behind bars.

Rittenhouse, 18, who was 17 at the time of the incident was accused in the shooting deaths of Joseph Rosenbaum, 36, Anthony Huber, 26, and wounding Gaige Grosskreutz, 27. But with the acquittal, the state's case against him ends and there can be no retrial.
He broke down in tears again after the jury, which had deliberated nearly four days, set him free, as did his family members, who sat in the courtroom. But although the case was not one about a white person killing a Black person, but instead centered around a slaying during a racial justice protest, it brought shock over the verdict.
"Somehow  those 12 jurors who had the evidence found he was innocent of the charges, yet we have two young men that will never be walking through the door to their families again," said Justin Blake, the uncle of Jacob Blake, whose 2020 shooting by a Kenosha policeman sparked the protest in which the death of Rosenbaum and Huber took place, to reporters. "We need to pray for their families."
But Rittenhouse's attorney Mark Richards, satisfied with the outcome, continued to defend his client's actions in remarks to reporters after the verdict.
"He had as much business being there as any of the demonstrators or the rioters," Richards said. "There's gonna be people who will never agree with that statement but if we'd all just mind our own business a little bit, I think we'd all be better off."
Kenosha County prosecutor Thomas Binger released a statement after the verdict simply saying: "While we are disappointed with the verdict, it must be respected."
But other expressed their dismay over the outcome. Attorney Benjamin Crump, who represents many of the families of the victims of police shootings was among the first to voice outrage.
"From the outset, this case has pulled back the curtain on the profound cracks in our justice system - from the deep bias routinely and unabashedly displayed by the judge, to the apathy of officers who witnessed Rittenhouse's crimes and did nothing," Crump said in a statement. "If we were talking about a Black man, the conversation and outcome would be starkly different."
Also Derrick Johnson, president and CEO of the NAACP blasted the verdict.
"The verdict in the Kyle Rittenhouse case is a travesty and fails to deliver justice on behalf of those who lost their lives as they peacefully assembled to protest against police brutality and violence," said Johnson in a statement. "Rittenhouse's decision to go to Kenosha and provoke protestors was unwarranted. Moreover, the outcome of this case sets a dangerous precedent. We have seen this same outcome time and time again; a justice system that presents different outcomes based on the race of the accused."
The Incident and the Trial

Fueled by the tensions over police violence that brought massive demonstrations across the nation, the trial was different from those of former officers who were charged in the deaths of unarmed citizens. Those proceedings focused on things like arrest procedures and forensic evidence.

Instead, the Rittenhouse trial focused on the night of August 25, 2020 in which he traveled from Antioch to Kenosha, where his father lived, about 30 minutes away. Demonstrators had taken to the streets, protesting the shooting of Blake, 29, by a Kenosha policeman after he responded to a domestic dispute.

In the chaos, Rosenbaum, Huber and Grosskreutz were shot at close range by Rittenhouse who was carrying an AR-15 rifle that was brought for him by Dominick Black, who testified that he purchased it because Rittenhouse was underage at the time. A weapons charge against Rittenhouse was dropped late in the trial by Judge Bruce Schroeder citing Wisconsin law that prohibits underage possession of short-barreled shotguns or rifles. An AR-15 does not fall into that category.

Rittenhouse claimed in his testimony that he was defending himself from a wild mob as he attempted to protect a used car dealership, something he was not asked to do; and administer first aid, something for which he had some training, but admitted later that he lied about being an EMT.
Video evidence shows Rosenbaum chasing Rittenhouse through the street and prosecutors maintain he was an active shooter. A witness testified that Rosenbaum lunged at Rittenhouse's rifle and that is when he shot him four times. But prosecutors maintain that Rittenhouse was unjustified because Rosenbaum was unarmed.

After shooting Rosenbaum, Rittenhouse was chased again by Huber, who is shown by the video swinging a skateboard at him and trying to grab the rifle, before Rittenhouse fires again, striking him in the head. Seconds later, Grosskreutz, holding a pistol, comes toward Rittenhouse who fires a single shot, wounding his arm.

Although Rittenhouse maintained in his testimony, in which he broke down in tears, that he was defending himself from attackers, prosecutors asserted that had he not come ot Kenosha in the first place looking for trouble, he would not have found it.

"You lose the right to self-defense when you're the one who brought the gun, when you are the one creating the danger, when you're the one provoking other people," Kenosha County Assistant District Attorney Thomas Binger told jurors in closing arguments, calling Rittenhouse a "wannabe soldier."

Richards countered that argument saying that Rittenhouse was in a life or death situation and had little choice but to open fire.

"Mr. Rosenbaum was shot because he was chasing my client and going to kill him, take his gun and carry out the threats he made," said Richards, who had painted Rittenhouse as someone who was trying to help the community and whose intentions for even traveling there were good. He also argued that Rittenhouse's actions were legal. "There was no threatening behavior that started this. Mr. Rosenbaum was hell bent on causing trouble that night. But Kyle Rittenhouse's behavior was protected under the law of the state of Wisconsin."