Gregg Popovich Is Woke AF and He's Not Playing When It Comes to White Privilege, Trump, and #BHM
The Spurs' coach keeps it all the way real and we love it.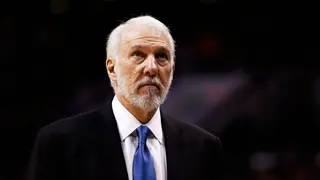 Shout out to Gregg Popovich, one of the wokest coaches of all time, especially as of late. The San Antonio Spurs' five-time NBA championship-winning coach has been on a roll recently, dropping gems with zero chill about everything ranging from Donald Trump's early presidency circus to the importance of women's marches and most recently a thorough read of white privilege and an honest take on Black History Month.
Here are some of Pop's woke AF words of wisdom and how people responded.
The Spurs' Coach Popped Off When It Came to Sharing His Disgust for All The Americans Who Voted for Trump

"I'm a rich white guy, and I'm sick to my stomach thinking about it," he said, as reported by the San Antonio Express, upon the ex-reality TV star's presidential election. "We are Rome."

#AlternativeFacts This, Donald

"You can't believe anything that comes out of his mouth," Pop told The Undefeated a week after Trump's election. "It changes day to day, depending on the situation and what he needs at the moment."

Talk To 'Em, Pop!

"I'd just feel better if somebody was in that position that showed the maturity and psychological and emotional level of somebody that was his age," he said, as reported by the MySanAntonio.com blog. "It's dangerous and it doesn't do us any good."

Pop Ain't Feeling Trump's Stooges Either

"And what really bothers me are the people around him, the Sean Spicers, the Kellyanne Conways the Reince Priebuses, who know who he is and actually have the cynical approach and disingenuous attitude to really defend him and make him look like he didn't say what he said," Popovich told the San Antonio Express. "When he's mad at the media for them reporting what he said, it just boggles my mind. When Kellyanne Conway said the other day he wasn't really making fun of the handicapped person. It's incredible. It really makes you wonder how far would someone go to actually cover for somebody that much. I think the comment was, 'You have to look in his heart. You don't know what's in his heart. He wouldn't do that.' But he did it."

And He Was There For The Women's Marches

"The message is important [since] there's a majority of people out there, since Hillary won the popular vote, that don't buy [Trump's] act," he said last month, as reported by MySanAntonio.com. "It tells me I really do live in a country where a lot of people care."

Pop Thoroughly Read White Privilege

"If you were born white, you automatically have a monstrous advantage educationally, economically, culturally in this society and all the systemic roadblocks that exist, whether it's in a judicial sense, a neighborhood sense with laws, zoning, education, we have huge problems in that regard that are very complicated, but take leadership, time, and real concern to try to solve," he said, as reported by ESPN. "It's a tough one because people don't really want to face it. And it's in our national discourse."

Look How Profoundly Pop Talked About Black History Month

"Well, it's a remembrance, and a bit of a celebration in some ways. It sounds odd because we're not there yet, but it's always important to remember what has passed and what is being experienced now by the Black population," he said, as reported by ESPN. It's a celebration of some of the good things that have happened, and a reminder that there's a lot more work to do. But more than anything, I think if people take the time to think about it, I think it is our national sin. It always intrigues me when people come out with, 'I'm tired of talking about that or do we have to talk about race again?' And the answer is you're damned right we do. Because it's always there, and it's systemic in the sense that when you talk about opportunity it's not about 'Well, if you lace up your shoes and you work hard, then you can have the American dream.' 

And Whether It Was His Comments About Trump, White Privilege Or Black History Month, Fans Were There For All Of Pop's Gems