Deion Sanders: HBCU Recruits Were 'Neglected' From NFL Draft
Not one player from an HBCU was drafted among 259 picks.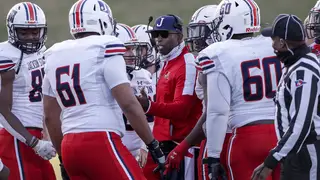 Deion Sanders is just one of the many people angered over the fact that not one player from an HBCU was selected during last week's 2021 NFL draft.
The NFL Hall of Famer recently took to Instagram and posted a picture of a tweet by The Undefeated, which read, "There were 259 picks in the 2021 NFL Draft — not a single draft pick featured a player from an HBCU."
Sanders, who is currently the head coach at Jackson State, an HBCU in Mississippi, captioned the tweet with his own take on the situation, writing, "We have the Audacity to Hate on one another while our kids are being NEGLECTED & REJECTED," he wrote.
"I witnessed a multitude of kids that we played against that were more than qualified to be drafted," Sanders added. "My prayers are that This won't EVER happen again. Get yo knife out my back and fight with me not against me!"
Other HBCU coaches were also frustrated by the lack of attention given to prospects throughout so many different programs. North Carolina A&T Coach Sam Washington, speaking to The Washington Post cited the many legendary success stories who came from HBCUs as a good reason for there to be attention paid to their current players.
"You can go back as far as you like, from Jerry Rice to Tarik Cohen," he said to the newspaper. "The quality of the athlete is definitely within our league. Them being seen or not being seen, it happened. For what reasons, I have not figured that part out. But the fact is that it happened."
Washington Football Team senior adviser Doug Williams, who went to Grambling State and later coached there, and became the first Black quarterback to win a Super Bowl, called the lack of drafted players from HBCUs a "travesty," according to the Post.
While no players from HBCUs were among the 259 draft selections, several were picked up by NFL teams via free agency.