Deion Sanders Lands Another Top Recruit For Jackson State Football
Wide receiver Kevin Coleman is the No. 58-ranked prospect, according to the ESPN 300.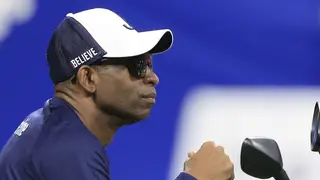 Deion Sanders and Jackson State have landed another top prospect to the 2022 class.
According to ESPN, on Saturday (January 8), wide receiver Kevin Coleman, the No. 58-ranked player in the ESPN 300, announced his commitment at the All-American Bowl.
Shortly after Coleman went public with his college choice, he confirmed to Sports Illustrated he made the selection without making a visit to campus.
"I see everything he [head coach Deion Sanders] is doing and I want to be a part of it," Coleman told SI. "Coach Prime, to be coached by a person who has done it before. Why not? He can teach me. He did it on both sides, he did it on special teams and he is a great person with great character.
Coleman marks the second top prospect Sanders has been able to land after five-star corner Travis Hunter chose the HBCU program over Florida State. Hunter is the No. 2 prospect overall and the highest-ranked prospect to pick an FCS school since ESPN started its rankings in 2006.
With Coleman's commitment, JSU now has more SI199 recruits than Oklahoma, Iowa, Ole Miss, Florida State, Cincinnati, and others.
Along with his high-profile recruiting push, Deion Sanders has also reportedly brought over $30 million in revenue to the university's home - Jackson, Mississippi. According to Jackson's official tourism council, "The city (of Jackson) has seen about a $30 million revenue increase, and it can be largely attributed to the on-field success of a once-proud Jackson State Tigers football program. Under the direction of the great Deion Sanders, whose core values of trust, discipline, toughness, and belief in a higher power has led the charge."
Sanders' impact has also influenced HBCU athletic programs in general as visibility and notoriety have exploded throughout the SWAC and MEAC conferences, which were once largely discredited by the NFL. It's an issue Sanders brought up last year, explaining how HBCU recruits were "neglected" from the NFL Draft. As a result, not one player from a historically Black college or university was drafted among the 259 picks.