HIV Among Youth
HIV/AIDS is a serious issue among young African-Americans.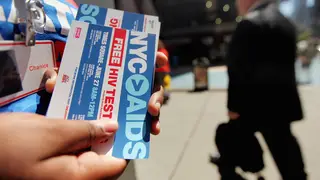 Today's youth needs age-appropriate HIV prevention education provided by parents, schools, the community and Web-based educational programs. They need to be taught early about HIV prevention in a way that they can understand and use. This includes education about risks and skills to help delay sex and prevent HIV infection.
You may ask, Why is this necessary? Here are a few reasons, and they are profound: one in four (12,000 per year, 1,000 a month) new HIV infections in the United States is among young people between the ages of 13 and 24. More than half of new infections among youth occur in African-Americans, that is more new infections than among any other group by race/ethnicity and gender.
Parents, teachers, mentors and community leaders need to have this information to move us to act, to make a concerted effort to provide our nation's youth with the tools and resources they need to assess their own personal risk, to decrease risky behaviors, to get tested, and protect themselves from HIV infection.
This is one step to help reduce the number of youth who every year are diagnosed with HIV. In a 2012 Vital Signs report, behaviors among youth that may put them at risk were reviewed. Factors such as stigma, homophobia, discrimination, less condom use, more alcohol and drug use, and having sex with older partners (who may be more likely to be infected) put young gay and bisexual males at greater risk for HIV infection.
BET Health News - We go beyond the music and entertainment world to bring you important medical information and health-related tips of special relevance to Blacks in the U.S. and around the world. Click here to subscribe to our newsletter.
(Photo: Mario Tama/Getty Images)