White Founder Of Organization Criticized For Cutting Black Teens' Locs Issues Statement About Backlash
Crusher's Club was given $200k by Jay-Z's Roc Nation and NFL partnership.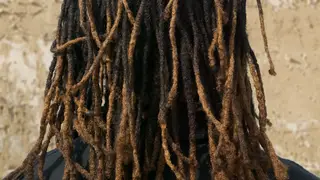 Now, in a statement to USA TODAY Sports, the Chicago-based organization — which recently received $200,000 by Jay-Z's Roc Nation partnership with the NFL — is issuing a public apology and explanation.
"Out of 500 youth going through our doors I cut two young men's hair because they asked me to and we are a family structure and so I did it and didn't really think about it after that," Sally Hazelgrove stated in an email. "I tweeted about it without much thought. It's hair. But I regret it now and I promise you I will not be doing that again if asked."
She continued, "The hatred and accusations from this took me by surprise. ... The backlash has been hard to be honest."
The organization also posted this message about not having "any policies prohibiting dreadlocks":
In defense of the organization known for catering to at-risk youth in the Windy City, Crusher's Club posted a video of a man identified as Kobe, who shared he was the teen photographed getting his hair cut, and critics were getting it all wrong.
"They cut my hair like three years ago," Kobe said. "That's something I wanted to do. I was tired of it. Tired of gang banging. Tired of messing up."
Despite backlash caused by the three-year-old photos resurfacing hours before a free concert to kickoff the Roc Nation-NFL partnership, dubbed "Inspire Change," its ambassador Meek Mill is still on a mission to support Crusher's Club and Chicago youth.
"The Chicago community has always supported me and I'm blessed to have the opportunity to give back to the Crusher's Club," Meek shared with TMZ after greeting some Crushers in Chicago. 
He continued, "Together with Inspire Change, we want to continue putting our youth in better positions to succeed, improve their communities and develop into the next generation of fearless leaders."
The locs debacle is just the latest aspect of the Inspire Change program to spark outrage, with many believing that Jay-Z's decision to partner with the NFL betrayed the efforts and sacrifice of Colin Kaepernick's ongoing protest.