RIP Nicole Hurst: 4 Facts About The Beloved Houston Singer
Hurst was an accomplished vocalist who sang back up for Justin Timberlake, Janet Jackson, Alicia Keys and many others.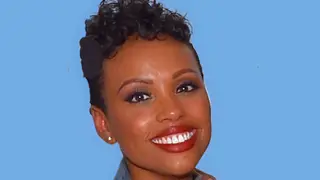 This weekend the typically private Justin Timberlake took to social media  to reveal one of his longtime background vocalists had died. Singer Nicole Hurst passed away at 39 from a long battle with breast cancer.
The "Cry Me A River" star took to his Instagram account Friday and posted several photos and videos of Hurst, who he frequently referred to as his "sister." There's footage of him singing happy birthday to Hurst, performing on stage together and more. 
"My heart is so heavy. We lost a beautiful soul this week," Timberlake said in the Instagram post. "Nicole lit up every room she walked into. On and off the stage she was a constant source of joy and positivity."
Although Hurst provided backup vocals for Timberlake as well as Janet Jackson, Bruno Mars, Alicia Keys, and many other top performers, there was actually a lot more to her than many people knew. The joy and light Timberlake witnessed was experienced by other artists who were blessed with her presence.
Here are four facts about the late Nicole Hurst that made her one of the shining stars of the music business. 
She died from breast cancer

She Was Born To Sing

This was probably a no-brainer, but Hurst — who was born on Aug. 21, 1982 — was talented since youth and began singing as a child.  

She Sang For The Best of the Best

Although she spent years touring with Timberlake as a member of the Tennessee Kids, Hurst also worked with countless other superstars including Kelly Clarkson, Janet Jackson, Bruno Mars, and Alicia Keys.

In doing so, Hurst graced every major stage imaginable. From The White House to NBC's Saturday Night Live to the Super Bowl Half-time show. She has also performed at the Academy Awards and the Grammys.  She did it all. 

No History of Breast Cancer In Her Family

Despite the severity and finally succumbing to the disease, the diagnosis of breast cancer came out of nowhere. 

"There is no history of breast cancer on either side," her mom tells ABC13 in the 2015 interview. 

Black women are reportedly more likely to die from breast cancer than White women. As Breast Cancer Awareness month approaches in October, allow the incredible legacy of Nicole Hurst to live on and get screened.