Mathew Knowles Releases Lost Destiny's Child 'Girls Tyme' Album
In addition to the album, Knowles released a book of the same name as well.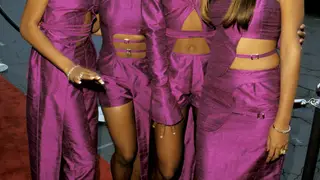 As promised, Mathew Knowles has kept his word on that throwback Destiny's Child music.
Previously, the former dad-ager announced on his official Instagram account that he would be going deep in the vault to release an album full of previously never-before-heard records from Destiny's Child dating back to their nascent days as Girls Tyme in December.

Before updating their now famously known group name, the iconic R&B girl group was comprised of Beyoncé, Kelly Rowland, LeToya Luckett and LaTavia Robertson under the former moniker. The group took on several competition stages and performances prior to their eventual evolution into the world-famous trio comprised of Beyoncé, Kelly and Michelle Williams. 

Mathew gave an update on the status of the album a few weeks later on his Music World Entertainment Instagram account. "[A] Destiny's Child: The Untold Story book and album will be available everywhere December 2!" the music executive teased. He also shared a preview of the cover for the forthcoming album and book alongside the announcement: a blacked-out silhouette of the three ladies striking their iconic Charlie's Angels-inspired pose.

True to his word, a 15-track album titled Destiny's Child: The Untold Story of songs recorded by the quartet (before the name and lineup change) was released on Monday (Dec. 2) via multiple streaming platforms. In addition to the album, Mathew also released a companion book of the same title.

It might not be the DC reunion fans were expecting, but they're certainly in luck for the surprise release, especially in light of Kelly's recent admission where she seemingly shot down reports of a rumored Destiny's Child reunion world tour. Listen to the album for yourself below and let us know what you think!