3 Times Soul Train Awards Hosts Tisha Campbell And Tichina Arnold Proved They Were Bestie Goals
What surprises do you think Tisha and Tichina will have this year?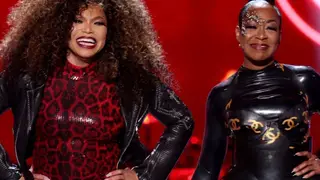 Actresses Tisha Campbell and Tichina Arnold are back for their fourth year of hosting duties as they make their return for the 2021 Soul Train Awards. For the last several ceremonies the comedic duo have kept audience members glued to their screens for an  annual night of musical celebration honoring the veterans in the R&B and soul world and the hard working class of tomorrow.
From a funny and show stopping performance featuring a medley of 90s hits to just cracking jokes on one another, you never know what to expect from the season hosts. Ahead of this year's event, we take a look back at three times Tisha and Tichina remind us why they are truly bestie goals.
Tisha and Tichina try doing a Mukbang and fail

Gal pals Tisha and Tichina's first stab at trying a Mukbang went totally left when the actresses hilariously shared a little too much about one another. Tichina can barely keep it together. Tisha has a profanity sprinkled meltdown while the two take a trip down memory lane about being roommates, Tisha' rebellion phase and her alleged freakiness.

Tisha and Tichina pay tribute to the 90s

If you're going to do something for the first time, who else better to do it with than your favorite girlfriend. The ladies made their Soul Train Awards hosting debut in 2018 giving audience members an energy packed medley of classic 90s hits.

Tisha and Tichina roast each other in mockumentary

Another hilarious moment between the pair is brought to you by their 2020 roast session in the form of a side splitting mockumentary. Between playfully outstaging one another or airing out their dirty laundry, the pair keep the jokes and laughter coming.

Watch the 2021 Soul Train Awards on Sunday, November 28 at 8 p.m. ET/PT on BET and BET Her.