Heat Waves Are More Dangerous For Black New Yorkers Due To 'Structural Racism'
The city's Department of Health made the note in a letter from officials to medical workers.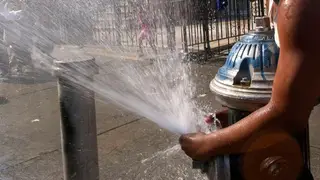 New York City's Department of Health is warning that Black New Yorkers are more likely to fall ill during heat waves due to "structural racism."
The New York Post reports that a Thursday (August 4) letter from officials to medical workers warns that extreme heat "is the deadliest type of extreme weather," noting that Black people are twice as likely to die as a result of heat stroke as white people in NYC.
Assistant Commissioner Carolyn Olson and Child Care Data Analytics Director Madhury Ray wrote that "Structural racism and the resulting social and economic inequities," make it more likely that people of color fit into those categories.
A letter to the city's comptroller is asking to increase cooling center locations and extend the weekend hours. Half of the city's cooling centers are listed as closed on Saturdays and 83% were closed on Sundays. The borough of Queens has the lowest number of cooling centers per 100,000 people with Manhattan having the highest.
New York City has been in the middle of a heatwave, which has caused power outages. Late July, over 4,000 New Yorkers lost power due to the overuse of air conditioners.