White House Advises Americans To Leave Haiti Amid Hostage Crisis, Instability
17 Christian missionaries have been held hostage for more than three weeks.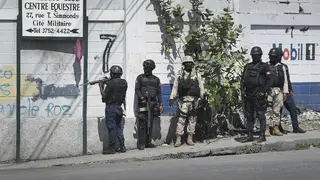 The Biden administration is suggesting that U.S. citizens living in Haiti "strongly consider returning to the United States" via a security alert issued from the U.S. Embassy in Port-au-Prince late last week.
According to the Miami Herald, the alert comes as the country's commercial banks and other businesses announced reduced hours starting this week with grocery store owners warning of coming food shortages and the United Nations encouraging employees to stock up on emergency supplies of water, food and other essentials.
It also comes amid a gang-aggravated fuel shortage and a hostage crisis where 17 Christian missionaries, including 16 Americans, have been held against their will for more than three weeks.
"The U.N. can confirm that a message was sent to all U.N. staff on 28 October strongly advising them, due to the prevailing security and fuel situation, to stock at least 14 days of emergency supplies of water, food and necessities," Daniel Dickinson, a spokesperson for the U.N.'s political office in Port-au-Prince, said, according to the Herald. "This advice is in line with the U.N.'s security and contingency planning."
Americans in Haiti are being encouraged to depart while commercial flights are still available. Critics of the new warning are blaming the Biden administration of standing by while the Caribbean nation is in peril.
"It sounds like an abdication of any kind of responsibility," Robert Maguire, a longtime Haiti expert who once prepared U.S. diplomats sent to Port-au-Prince, said of the responses of the U.S and the U.N. to the unfolding crisis. "I think this administration would prefer for Haiti to go away. But it's not going to go away. It seems that there is no real unanimity of what to do in this administration."
A U.S. State Department spokesperson says their top priority is the security and welfare of American citizens abroad.
"Our Travel Advisory for Haiti is a Level 4: Do Not Travel due to kidnapping, crime, civil unrest, and COVID-19," the spokesperson said, according to the Herald. "Kidnapping is widespread and victims regularly include U.S. citizens."
U.S. and U.N. officials believe the crisis in Haiti will worsen this week if authorities aren't able to supply fuel to the country. Over the weekend, gang shootings in Port-au-Prince ramped up, leading to panic, deaths and further dashed hopes that fuel tankers would be able to get through gang-controlled territories to access blocked distribution terminals.