Jonathan Majors Files Counter Complaint Against Ex
The Marvel actor says he was 'victim' in March assault with ex-girlfriend.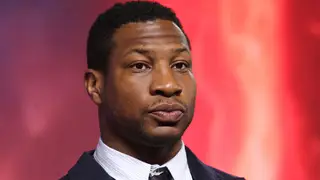 Marvel actor Jonathan Majors has had a recent breakthrough in his assault case with ex-girlfriend, professional dancer Grace Jabbari.
According to the New York Post, the feud started back in March when police were called to Majors' New York City apartment after a fight between him and Jabbari that resulted in her minor head and neck injuries. The call led to Majors' arrest that same night while Jabbari was hospitalized.
He was initially charged with six counts of third-degree assault, three counts of third-degree attempted assault and two counts of harassment, with a strangulation charge that has since been dropped.
Released by police, he now faces the court where Priya Chaudhry, Majors' attorney, defends that the actor was the real victim in the  relationship. He recently filed a domestic violence counter complaint against Jabbari on June 22nd, alleging she was also physical in scratching and hitting him while she was drunk the same night of the arrest in March.
In legal documents obtained by The Post, Chaudhry said a cab driver claims bearing witness to Jabbari allegedly attacking Majors in March, detailing "hitting, scratching and attacking" on the way home from a bar in Brooklyn in which Majors requested to stop the car in order to leave the situation.
According to Chaudhry, Majors met with the NYPD last week to present evidence against his ex-girlfriend for the first time, telling the Post, "Within hours of viewing the evidence, and conducting their own thorough investigation, the NYPD found probable cause to arrest Grace Jabbari for assaulting Jonathan Majors." It should be noted, the NYPD has not charged or arrested Jabbari.
The NYPD is continuing their investigation while the ex-couple awaits the hearing of the case going on trial August 3rd. Majors' attorney denies all allegations.