Burna Boy Drops 6th Studio Album 'Love, Damini'
The album features Ed Sheeran, J Balvin, Kehlani, Victony, Blxst, Popcaan, Khalid and the legendary South African group Ladysmith Black Mambazo.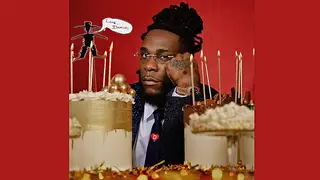 Nigerian artist Burna Boy's highly anticipated sixth album "Love, Damini" dropped on Friday (July 8).
The Apple Music "Up Next" global alumni is opening up to fans about why "Love, Damini" is such an important body of work for him. In a candid conversation with BET.com, Burna broke down his new release.
Since his recent birthday (July 2), the 31-year-old international star began to think more critically about the impact he wanted this project to have. In essence, "Love, Damini" is a birthday gift to himself and his fans.
"After turning 30, birthdays seem to make you reflect on your life choices, or a lack thereof—your goals, dreams, hopes, achievements and fears," Burna explained. 'Even though it put me in a vulnerable place, it also challenged me to do and feel more. I started working on a Punjab mixtape with the late great Sidhu Moose Wala, halfway through recording this project, because I needed to open my mind more."
He added, "I'm eternally grateful to him for that, and so, on this album, I thought about a few things– start as you intend to finish, love is fragile, expect nothing and dream wildly while living intentionally."
Burna, born Damini Ogulu, also expressed that he wanted listeners to have a complete emotional experience with his latest album.
'I want you to listen to this and feel like it's a roller coaster ride. Catch a vibe, buss a whine, party like it's your birthday, or even grab a tissue. I've got you, always."
The hitmaker also spoke with Apple Music 1's Zane Lowe about one unexpected collaboration on "Love, Damini."
The "Bank On It" singer revealed that for his new song "For My Hand," he tapped "Thinking Out Loud" artist Ed Sheeran, calling him a "genius."
Burna chopped it up with Lowe about Sheeran and the tracks they recorded together, especially "For My Hand."
"Ed is probably the most amazing guy I've met in my life, man. He got me because he showed nothing but love from day one. You understand? So it's something that was really natural, you get me? And it's one of the ones where it's just like back to back, you get me? It's so natural. We made like five songs on the same day," he said.
"That's how organic it was. That's it, man. The guy's just such a genius, man. He just knows what's what, and when. This was the last one we did, we started working on and he was like, 'Yeah, this is it. This is the one. This is it.' You feel me? At the time I wanted one of... There was another one I thought, 'Okay, this could be cool.' You feel me? 'This should be the one.' You get me? And then we made this one and then boom, it was just next level."
Burna also collaborated with Colombian artist J Balvin, saying, the pair had a "connection."
The Grammy Award-winning artist also featured Kehlani, Victony, Blxst, Popcaan, Khalid and the legendary South African group Ladysmith Black Mambazo.
Stream Burna Boy's 'Love, Damini' on Apple Music HERE.