8 Comedy Rock Stars We'd Pay Good Money to See Headline Together
With Kevin Hart and Chris Rock set to go on the road, here's a host of other funny people we'd give all the coin to witness live.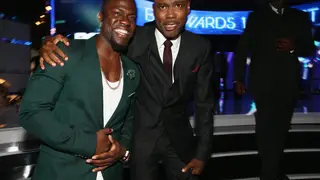 When it comes to good comedy, a live experience at that, it takes two important ingredients to make it go right: charisma and confidence. Recently, two of the best at that and in the business of being funny — Chris Rock and Kevin Hart — announced that they will be hitting the road together for a co-starring set called, Rock Hart: Only Headliners Allowed.
The five-date, exclusive arena run, which is set to kick off on July 21 at the Northwell Health at Jones Beach Theater in Wantagh, NY, should already be on everyone's to-do list. As other stops stay in the Tri-State Area, a chance to witness two legends like Rock and Hart slay everywhere from the Prudential Center to Madison Square Garden to Brooklyn's Barclays Center is a must-see, to say the least.

The news instantly lit up social media and people are already copping tickets. Much like other great comedy teams of the past — Abbott and Costello, Eddie Murphy and Arsenio Hall — we're in line with other fans of the ha-ha in wanting to join in on the revelry. With that in mind, we've compiled a list of 8 other comedy rock stars that we'd paid top coin to see hit the road together!
Dave Chappelle and Eddie Murphy

Two of the best to ever do it live and on television, partnering up Dave Chappelle and Eddie Murphy to share celebrity stories, make fun of each other, and bring the world to a stop is just what the comedy gods should make happen for 2022 or 2023. With Chappelle inching into more of a producer's role and Murphy somewhat itching for a stand-up revival, this is an iconic live show idea that should definitely have its own country-wide tour.

Sommore and Ms. Pat

Two strong, independent funny women, such as Sommore and Ms. Pat, would be a money-making billing of immense proportions waiting to happen. With this year being the 30th anniversary of ComicView, Sommore, an original Queen of Comedy, and Ms. Pat, arguably the funniest woman on the planet — would break the internet (and the box office) with ease, making for an instant classic for hardcore comedy fans not to miss.

Martin Lawrence and Steve Harvey

The former is a legendary raunch-meister, known for his roasting ability, star appeal, and for making crowds double-over, while the latter has chronicled Black life through humor and went on to become a face inescapable on daytime TV. 

Together, though, on stage, seeing these two hosts get busy in their own way would be a masterclass for a new generation who weren't old enough to see them in their prime.

Nick Cannon and DC Young Fly

The roots of Nick Cannon's comedy growth are chronicled in Guy Torry's wonderful docu-series, Phat Tuesdays, while DC Young Fly has been a young padawan as part of the former's Wild 'N Out crew. 

A tour is already in the works to profile Cannon's incubator of hilarity, which means there's an upcoming chance to see the young gunners of gut-busting jokes do their thing across state lines — which we are ecstatic to enjoy!

Katt Williams and Eddie Griffin

Blessed (and some would say cursed) with knowledge and otherworldly skills to connect conspiracy, the streets, and comedy together — Katt Williams and Eddie Griffin are two geniuses who need to go out on the road together. 

From Williams' penchant at highlighting the b***ha**ness of those in and outside of the Black community to Griffin breaking apart the inaccuracies of today's government officials — a chance to see them together could spark a hilarious and much-needed discussion about where the culture is headed as it evolves into a globally consumed art form.

Wanda Sykes and Mo'Nique

Mo'Nique, another O.G. Queen of Comedy, and Wanda Sykes, an imaginative and impressively unique comedian and writer in her own right, would make headlines instantly if they were to go on tour together. Both women are never shy to speak truth to power, sprinkling witticisms and bewilderment at the way things happen to and around them. 

With the game lacking such platforms for Black women to showcase their skills, a 20-city tour with these two comedic goddesses would not only empower the stages that stand upon but answer some of those burning questions many have about their respective pasts.

Lil Rel Howery and Tiffany Haddish

If you really look at the comedy game from the perspective of "who's ready" and "who's working," then look no further than Lil Rel Howery and Tiffany Haddish. These two in-demand comedians are in everything from TV (Southside, The After-Party) to films (Space Jam: A New Legacy, Bad Trip) and have more to come as we delve further into 2022. 

With some time gone by between comedy specials, placing these two certified blockbuster talents on a marquee together is guaranteed to not only sell-out live but to become a trending topic across social media and whichever streaming service this would land on.

Eric André and Hannibal Buress

Two great comedic forces when it comes to irreverent and absurdist comedy, Eric André and Hannibal Buress have a long legacy together as part of The Eric André Show. Both have had major breakout success in their respective works, and represent a comedy duo that when on stage, would place them into an appreciated niche that is well-received by the right audience.