Vanessa Bryant Awarded $16 Million In Lawsuit Over Crash Photos Taken Of Husband Kobe And Daughter Gianna
Nine jurors returned a unanimous verdict.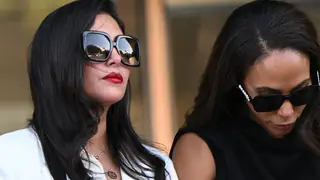 On Wednesday (August 24), a federal jury found that Los Angeles County must pay Vanessa Bryant $16 million for emotional distress caused by deputies and firefighters sharing photos of the bodies of her husband Kobe and their daughter Gianna taken at the site of the 2020 helicopter crash that killed them and seven other people.
According to ESPN, nine jurors returned a unanimous verdict, agreeing with Bryant and her attorneys that the photos of the remains invaded her privacy and brought her emotional distress. The jury reportedly deliberated for 4.5 hours prior to reaching their verdict. As it was read, Vanessa Bryant was crying quietly.
The photos were reportedly shared mostly among employees of the L.A. County Sheriff and Fire departments, but also with worker's spouses, and in one case, by a bartender at a bar where a deputy was drinking.
"I live in fear every day of being on social media and these popping up," Vanessa Bryant testified, according to ESPN. "I live in fear of my daughters being on social media and these popping up."
During the 11-day trial, Bryant revealed that news of the photos compounded her still-raw grief a month after losing her husband and daughter, and that she still has panic attacks at the thought of them being released to the public.
Bryant's legal team didn't give jurors a dollar amount they thought their client deserved. Chris Chester, her co-plaintiff whose wife and daughter were also among the nine people killed in the crash, provided guidelines that would have meant tens of millions for each plaintiff. Chester ended up being awarded $15 million.