Vanessa Bryant Honors Kobe's Teammate Pau Gasol at the Former Staples Center
The retirement of Gasol's No. 16 jersey marked the first time Vanessa returned to the arena since her husband and daughter's memorial service.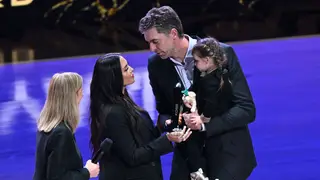 For the first time since Kobe and Gianna Bryant's deaths in February 2020, his widow, Vanessa, appeared at the Crypto.com Arena. She showed up to pay tribute to her late husband's close friend and teammate Pau Gasol. The team retired his No. 16 jersey.
Gasol offered the following in a video posted on the NBA's Twitter account:
The retired baller also mentioned before the ceremony that he would not have reached this point in his career without Kobe and that he would be thinking of the deceased superstar all night.
Kobe's close friend Gasol, 42, has supported Vanessa, 40, and her daughters Natalia, 20, Bianka, 6, and Capri, 3, ever since Kobe and Gianna were killed with seven others in a helicopter crash on January 26, 2020.
Since her husband and daughter's memorial service, Vanessa had not returned to the Los Angeles arena, once known as the Staples Center. Her heartbreaking eulogy to them was remembered as touching and profound.
"God knew they couldn't be on this earth without each other. He had to bring them home to have them together," Vanessa spoke to her late husband: "Babe, you take care of our Gigi. And I got Nani, B.B. and Koko. We're still the best team. May you both rest in peace and have fun in Heaven until we meet again one day. We love you both and miss you. Forever and always, Mommy."