Breonna Taylor's Aunt Arrested, Warrant Issued For Jacob Blake's Father After Jayland Walker Shooting Protest
Seven people were charged in total.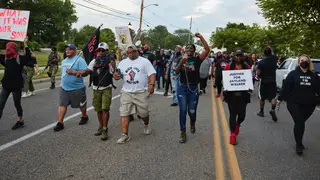 Breonna Taylor's aunt and Jacob Blake's father have been reportedly charged following a protest over the death of Jayland Walker in Akron, Ohio.
According to Cleveland.com, Jacob Blake Sr., 55, and a 37-year-old man were charged after they continued to block the intersection. Both men were accused of rioting, disorderly conduct, failing to disperse and resisting arrest.
Bianca Austin, 41, was arrested and charged with rioting, disorderly conduct, and failure to disperse. She posted a $2,500 bond Thursday afternoon (July 7).
To disperse the crowd, officers reportedly deployed tear gas. The Cleveland Plain Dealer reached out to the Akron Police Department for comment regarding the arrests.
"We fully support our residents' right to peacefully assemble," police said in a statement. "[But] acts of violence and property damage are illegal and will not be permitted."
Walker was fatally shot by Akron police on June 27 after a car chase. Officers shot 90 times at the 25-year-old, striking him 60.
The shooting has since fueled widespread protests in Akron, prompting Mayor Daniel Horrigan to issue a curfew for the downtown area for most of the week.