Biden Says Feds May Oversee Investigation Into Police Shooting Of Jayland Walker
'The Justice Department will take the appropriate action' if violations are found, the president says.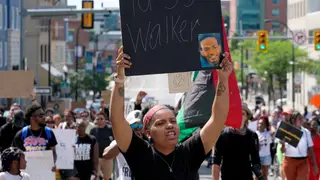 "The Justice Department and the civil rights division of the FBI field office in Akron, Ohio, and the local U.S. attorney's office are closely monitoring and reviewing what happened," the Akron Beacon Journal quoted President Biden's comments in Cleveland on Wednesday (July 6).
"The FBI continues to coordinate with state and local partners to provide resources and specialized skills," he added. "If the evidence reveals potential violations of federal criminal statutes, the Justice Department will take the appropriate action and I just want you to know what's going to happen."
The eight police officers who shot Walker more than 60 times in an attempted arrest are on paid administrative leave during ongoing investigations by the Akron Police Department and the Bureau of Criminal Investigation at the Ohio Attorney General's Office.
Local civil rights groups and Black elected officials have called for federal involvement in the investigation, according to the Beacon Journal.
"We are asking for the Department of Justice to come in. "We want a consent decree from the state. We are looking for real change. And, so, we know it can't happen within. It hasn't happened to date," Akron NAACP President Judi Hill stated.
At about 12:30 a.m. on June 27, an Akron police officer attempted a traffic stop of Walker for a cracked taillight, non-working license plate light and an unspecified infraction, the newspaper reported.
The police said Walker led officers on a high-speed chase during which video footage appeared to record a flash of light that may have been gunfire from Walker's vehicle.
Police investigators said Walker stopped the car and fled on foot. Cops unsuccessfully fired two Tasers at him. Officers said they feared for their lives when Walker turned toward them and moved into a firing position. They fired at Walker in a hail of bullets. Walker fell instantly, but several of the officers emptied their clips into him while he lay on the ground.
The police later determined that Walker was unarmed when officers fired their weapons at him. Officials released graphic video footage of the shooting on Sunday (July 3), fueling an already tense situation.
On July 4, protests escalated, but remained mainly peaceful, although several caused damage to property. Police arrested 50 people who did not leave the downtown Akron area when ordered to, according to WKSU. A curfew had been declared but was lifted on Tuesday.