Stop Everything! Beyoncé's 'RENAISSANCE' Is Here
The much anticipated album was released at midnight on July 29 with a special message from Bey and fans can't contain themselves.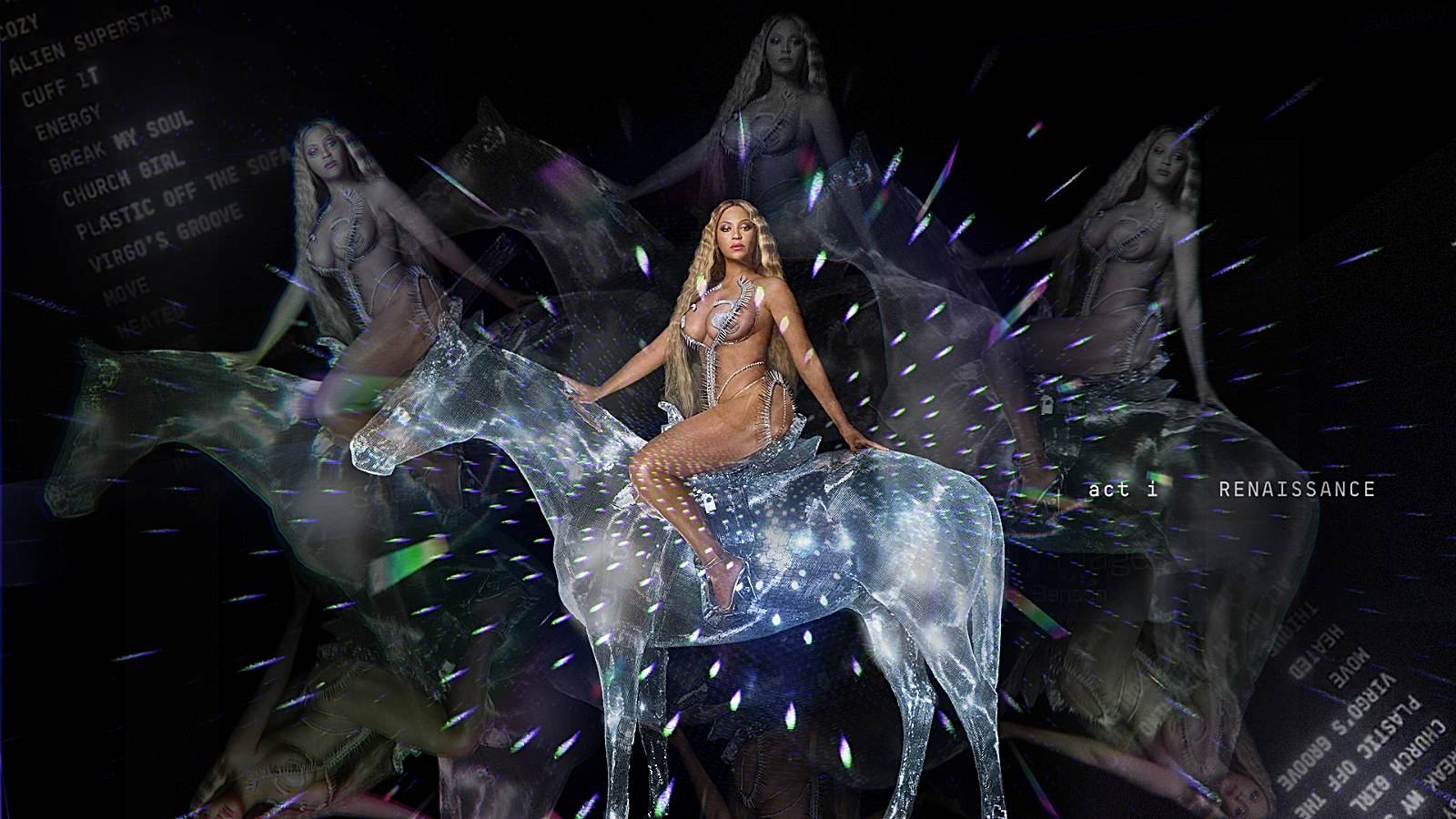 After a six year break following the release of her critically acclaimed masterpiece Lemonade, aside from The Lion King: The Gift in 2019, Beyoncé is making her mainstream return with her seventh studio album, RENAISSANCE. Considered "act 1" of four in total, since the announcement of the lead single "Break My Soul," and subsequently the album, many insiders and outlets have been theorizing over details concerning her newest project. The album is said to include samples of Teena Marie, Kelis, Twinkie Clark, James Brown, and Donna Summer to collaborative efforts from Lucky Daye, SYD, The Dream, Drake, and Levan Kali, one can imagine just where Queen Bey will take this new musical chapter.
Details had been scant surrounding the album's release on July 29, 2022 with little insight into the tight-knit and creative world of Beyoncé. With RENAISSANCE being unveiled sonically to the world  today at midnight, here's a comprehensive breakdown into the world of RENAISSANCE: act i.
BREAK MY SOUL
Our journey into the world of RENAISSANCE begins with the social media frenzy that began with the removal of Bey's avi from her social media accounts on June 7th, 2022. Shortly afterward, her bio was updated with the song's title and release date less than 24 hours before the single was released. Produced by Tricky Stewart, Beyoncé and The Dream, along with featured vocals from Big Freedia, the song samples the iconic 90s House classic "Show Me Love" by Robin S and Freedia's 2014 record "Explode."
The track was released early via Tidal and YouTube and shortly after, Beyoncé announced her album title and release date in her Instagram bio along with the single cover for "Break My Soul." Since its release, the song has reached number one in numerous countries such as South Africa and Israel while reaching the top 10 in the United States, United Kingdom, and Canada. It debuted at Number 15 on the Billboard Hot 100 with the song eventually reaching number 7 becoming her 20th top ten single as a solo act and 30th career top ten single. The song has thrived on social media with the "Break My Soul Challenge" with dancers across the world voguing to the House and Dance-Pop jam. The challenge led Beyoncé to make her first TikTok video which featured dancing and singing along to the single.
The song was met with widespread acclaim and was dubbed the anthem of the "Great Resignation" — an ongoing economic trend in which employees have voluntarily resigned from their jobs by the masses.
COVER ART
In an interview with British Vogue in June of this year, the shoot referenced 70s Disco with shiny attire and the appearance of a horse. A few weeks later, on June 30th, 2022, Beyoncé revealed the album's cover art with the singer seated atop a holographic crystal horse in a futuristic bikini that was reminiscent of the crystal top (which was a pair of vintage pants worn by icon Cher) worn on her 2003 Dangerously in Love cover. With the clothing, designed by Nusi Quero and the cover shot by Carlijn Jacobs, many interpreted the cover as being inspired by John Collier's 1897 painting Lady Godiva and Bianca Jagger riding a horse for her birthday party in Studio 54.
TRACKLIST, PRODUCERS, AND GUEST FEATURES
During the interview with British Vogue, it was confirmed that the album would feature influences from "1990s garage and glittering retro-futurism." A few days after the release of the album cover, reports via Variety revealed that songwriter Ryan Tedder and producer Raphael Saadiq would be attached to the project. 
On the 20th of this month, Bey revealed the tracklist in a holographic video on her Instagram stories consisting of sixteen songs including the opening track "I'm That Girl," "Summer Renaissance," "Church Girl" and "Cuff It."
1.            I'M THAT GIRL
3.            ALIEN SUPERSTAR
5.            ENERGY (FEAT. BEAM)
6.            BREAK MY SOUL
7.            CHURCH GIRL
8.            PLASTIC OFF THE SOFA
9.            VIRGO'S GROOVE
10.          MOVE (FEAT. GRACE JONES, TEMS)
13.          ALL UP IN YOUR MIND
14.          AMERICA HAS A PROBLEM
16.          SUMMER RENAISSANCE
The following day, fans found a tracklist consisting of songwriting and production credits that included Lucky Daye, SYD, Drake, The Dream, Tricky Stewart, Levan Kali, and Mike Dean, which were later confirmed by Variety per Apple Music. With three official features from Grace Jones, TEMS, and Jamaican-American rapper and singer Beam, the highly-anticipated aspects of the album were the rumored samples. With songwriting credits to Teena Marie, 90s drag artist Moi Renee, James Brown, Donna Summer, Elbernita "Twinkie" Clark, and Pharrell, many have begun speculating about interpolations and samples.
With the anticipated release on Friday, the next chapter of Beyoncé's RENAISSANCE book is what we can expect visually from the album. Whether she plans on touring or delivering visuals in the traditional roll-out fashion, one thing is for sure — the world is waiting at her beck and call for act ii, iii, ix of this musical chapter she called RENAISSANCE.