Beyoncé to Release Long-Awaited 7th Album, 'Renaissance' on July 29
This project marks Queen Bey's first solo album in six years after she released 'Lemonade' in 2016.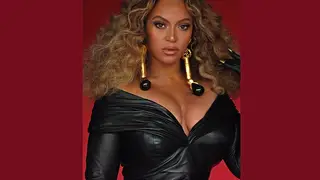 World, stop!

Beyoncé fans everywhere are in a state of euphoria as the Grammy Award-winner announced her seventh studio album, Renaissance, which is officially scheduled to drop on July 29.

Beyoncé.com shared an image of a black square with "act i" and "RENAISSANCE" written in white on each side, plus a caption that said: "Beyoncé. RENAISSANCE. July 29." The same graphic was shared on social media by high-def streamer Tidal around the same time.
Almost instantly, Queen Bey updated the bios on her Facebook, Twitter, and Instagram pages to reflect the upcoming release.

Internet sleuths and hardcore fans were piqued less than two weeks ago when Knowles had initially wiped clean her social media channels, which signaled that an announcement of some kind was impending. Then on June 15, the singer's BeyGOOD Foundation tweeted a message in honor of Black Music Month, posting an image of iconic albums and captioning the collage: "Celebrating the brilliance and creativity of Black Musicians who have influenced the world through their art."
One of the albums pictured caught the attention of the Beyhive, as Brandy's B7 album, released in 2020, gave them just the right dots to connect and conclude that Beyoncé's seventh album was coming.

In a cover story last August with Harper's Bazaar, Beyoncé talked about working on new music, which also included a "renaissance" mention. "With all the isolation and injustice over the past year, I think we are all ready to escape, travel, love, and laugh again. I feel a renaissance emerging, and I want to be part of nurturing that escape in any way possible," she explained. "I've been in the studio for a year and a half. Sometimes it takes a year for me to personally search through thousands of sounds to find just the right kick or snare. One chorus can have up to 200 stacked harmonies. Still, there's nothing like the amount of love, passion, and healing that I feel in the recording studio. After 31 years, it feels just as exciting as it did when I was nine years old. Yes, the music is coming!"

The soon-to-be-available project is said to have 16-tracks total, per BeyLegion. Four unique box sets are currently available for pre-order on Beyoncé's website, which includes a CD, T-shirt, mini-poster, and a 28-page photo booklet.

The product "begins shipping July 29th upon album release."
Renaissance will mark the incomparable star's first solo album in six years. Her previous solo release, Lemonade in 2016, received universal critical acclaim and was named "the greatest album of the 2010s" by such publications as the Associated Press.
She would also appear on the 2018 collaborative album, Everything Is Love, with husband Jay-Z, as well as 2019's The Lion King: The Gift, a soundtrack for Disney's live-action adaptation that featured original music by the artist. Also that year, the star released Homecoming: The Live Album, which went hand in hand with her otherworldly Coachella performance from the year prior. And this year, she earned an Oscars nomination for Best Original Song for "Be Alive," which was featured in King Richard.