Celtics Star Isaiah Thomas' Sister Chyna Dies In Tragic Car Accident
She passed away while in Thomas' home state of Washington.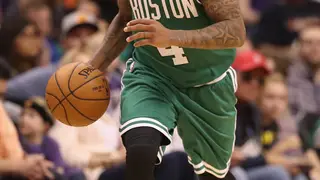 Tragic news in the NBA as Celtics star point guard Isaiah Thomas' sister, Chyna, passed away during a one-vehicle car accident in Washington State.
Chyna Thomas reportedly died at the scene of the accident early Saturday morning on Interstate 5 in Federal Way, Washington, according to authorities.
According to ESPN, Isaiah learned of his sister's death after he participated in the Celtics' afternoon practice. Apparently, fellow Tacoma, Washington native and teammate Avery Bradley pulled Thomas aside during an interview with a reporter. Thomas never returned to speak with the media.
Isaiah Thomas is expected to play Sunday when the team opens its first-round playoff series against the Chicago Bulls on Easter Sunday in Boston. It's unclear when Thomas will make a journey to Washington to be with grieving family members.
Our thoughts go out to the Thomas family during this difficult time. We will keep you posted as more developments become available.