Busta Rhymes Reunites Onstage with Janet Jackson, Recalls Singer Almost Making Him Crash His Car
The emcee was shocked to hear the r&b singer mention his name.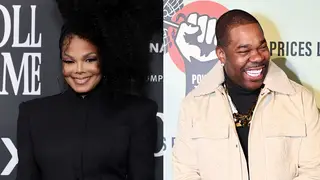 Busta Rhymes and Janet Jackson recently reunited onstage for a sizzling first-time live performance of their single "What's It Gonna Be?!" After which, the Brooklyn emcee took some time to give the "All For You" singer her well-deserved flowers while sharing a funny story about how he almost crashed his car because of her.
Fans, including Jackson, were stunned when Busta stopped by  Tuesday's night leg of her "Together Again Tour" at Madison Square Garden in NYC to praise the Grammy Award-winner. "I don't want to disrupt the programming too much, but I brought some gifts for you, queen," the "Everything Remains Raw" rapper said.
In the heartwarming moment, someone else presented Jackson with a beautiful bouquet, as Busta went on to explain that he wanted to give the multi-talented entertainer her flowers while she could still smell them before recalling the hilarious story.
"In 1998 ... I'm on the Belt Parkway going from Long Island to Manhattan," he began. "I'm listening to Janet Jackson do an interview ... Angie Martinez asked her, 'What rapper have you never worked with before that you would like to work with?' She said, Busta Rhymes." The emcee excused himself before sharing, "I almost crashed my f**king car."
Getting visibly emotional, Busta wished Jackson an early happy birthday, telling her, "You finally made a dream come true for me, queen." The "Break Ya Neck" emcee noted that he's "waited 25 years to be able to share this stage with you and perform this song. And I am so grateful that I'm fighting tears of joy right now. I just want you to know that I love you so much."
"What's It Gonna Be?!"  was a massive success, peaking at the No. 3 spot on Billboard Hot 100. Its music video, directed by Hype Williams, became one of the most expensive visuals in hip hop, totaling a reported $2.4 million.