Police Investigating Fan For Slapping Kyler Murray During Postgame Celebration
A battery complaint was made following the Cardinals' victory on Sunday.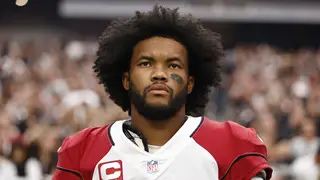 Las Vegas Police are reportedly investigating a situation involving Arizona Cardinals quarterback Kyler Murray after he was allegedly slapped by a fan after his team's win over the Las Vegas Raiders on Sunday (September 18).
According to the Associated Press, a LVPD spokesperson on Monday noted that a battery complaint was made following the Cards' 29-23 victory because "a spectator at the stadium struck a professional football player."
The apparent slap took place immediately after the game ended and was caught on camera by a reporter for local station KPNX in Arizona. Murray is seen celebrating with teammates and fans after defensive back Byron Murphy returned a fumble 59 yards for the game-winning touchdown in overtime.
As Murray runs to celebrate with fans, giving out high fives, a fan in a gray shirt appears to strike the Pro-Bowl QB in the face.
After the slap, Murray was pulled away by teammates before the situation could escalate further. Murray subsequently left the field and went to the locker room to continue celebrating.