Trump Shades Kyler Murray After History-Making Double Draft
The young athlete was a first round pick for the NFL and MLB.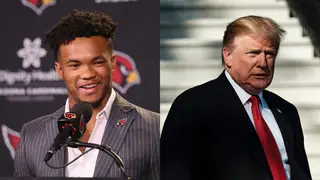 On Thursday (April 25), Oklahoma quarterback Kyler Murray became the first pick in the 2019 NFL Draft.
The honor not only changed his life financially, the distinction was just latest bestowed upon among him. He won the Heisman Trophy (college football's best player) last December, was one win away from his Sooners team competing for a national title, and Thursday's first round selection made him the first NCAA athlete to ever be drafted in the first round of two seperate professional sports.
In June 2018, Murray was selected by the Oakland Athletics with the 9th overall pick in the 2018 Major League Baseball Draft before his senior year in college. At the time, it wasn't even certain Kyler would choose football over baseball and the debate rages on as to what sport would be best for him because of his immense talent.
What isn't debatable is Donald Trump's pettiness surrounding Kyler Murray's black excellence. On Thursday, 45 tweeted his congratulations for one pick in this year's draft and it wasn't for Murray. Nick Bosa, the second overall pick in the draft, received praise from Trump, "Congratulations to Nick Bosa on being picked number two in the NFL Draft," he tweeted. "You will be a great player for years to come, maybe one of the best. Big Talent! San Francisco will embrace you but most importantly, always stay true to yourself. MAKE AMERICA GREAT AGAIN!"
While there's the obvious race disparity – Bosa is white, Kyler, African American – The Ohio State defensive end previously voiced his support for Trump on social media, and had been critical on numerous occasions of Colin Kaepernick and his national anthem protests. He even went after Black excellence in various tweets, calling Beyonce and Jay-Z's music "trash" and describing Black Panther as the "worst Marvel movie" ever. All tweets about Kaep and attacks on Black celebrities have been deleted from Bosa's Twitter account and even he admitted he did it because there was likely chance he'd end up in San Francisco, a generally liberal city and former team home to Colin Kaepernick.

Another element making this even more petty is that Kyler Murray's never even voiced any opposition to Donald Trump. Ever. In general, the now-NFL rookie is not outspoken and has kept his political views off social media. It was just his blackness and non-sycophantic behavior toward the president that kept Trump silent about his accomplishments.

It was something Twitter noticed quickly

There's no doubt that Nick Bosa is a talented player and has been long regarded as a top pick in this year's draft since dominating at Ohio State. He also has the NFL bloodlines as his brother Joey currently plays for the Los Angeles Charges and his father was also drafted in the first round. No diss to his play on the field. The fact that Donald Trump had to skip over the Black guy in order to praise the white guy is just another example of his racism and pettiness.