Ava DuVernay Becomes First Black Woman to Have Official Selection at Venice Film Festival
The Oscar nominee's film 'Origins' debuts this September.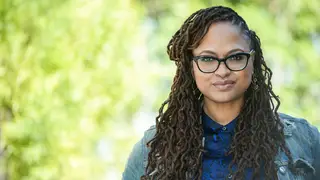 Ava DuVernay recently made history at the Venice Film Festival when her film "Origin" became the first-ever film directed by a Black woman to be selected for the prestigious competition.
Written and directed by the Primetime Emmy Award-winner, "Origin," is based on the book "Caste: The Origins of Our Discontents" by Isabel Wilkerson. The movie is set to examine racial inequality in the US.
The film features a star-studded cast including Aunjanue Ellis-Taylor, Audra McDonald, Niecy Nash Betts, Jon Bernthal, Nick Offerman, Blair Underwood, Vera Farmiga, and Connie Nielsen.
DuVernay joins four other female directors including Sofia Coppola (Priscilla), Agnieszka Holland (The Green Border), Malgorzata Szumowska (Woman Of, co-directed with Michal Englert), and Fien Troch (Holly).

"Origin" will premiere at the 80th Venice International Film Festival — which will take place sometime in September.
Just last December, the "Selma" director became the first Black woman to be pictured on a pint of Ben & Jerry's ice cream.
The ice cream flavor, named Lights! Caramel! Action!, consists of vanilla ice cream with salted caramel, graham cracker swirls, and pieces of chocolate chip cookie dough. There is even a non-dairy version made with almond milk.
The new flavor began shipping out nationwide at the top of the year.