This Week in Good Black News: Nelly And Ashanti Are Back Together, Michael Irvin Settles For $100M and Spike Lee Calls Out The Critics
Plus, HBCUs also made some big moves this week!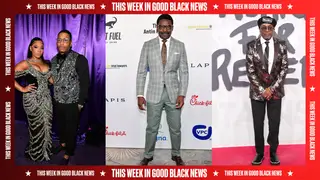 Welcome to "This Week in Good Black News"! We have 10 headlines that are uplifting, inspirational, and downright joyful.
After months of are they or aren't they, Nelly and Ashanti have both confirmed that they are officially back together! Accused of misconduct earlier this year, Pro Football Hall of Famer Michael Irvin won big in a lawsuit. Plus, acclaimed filmmaker Spike Lee, who always keeps it all the way real, fearlessly calls out critics. These stories and more are in the latest dispatch of "This Week in Good Black News"!
Will Smith Celebrates 33 Years Of 'The Fresh Prince of Bel-Air'

September 10th marked 33 years since "The Fresh Prince of Bel-Air" debuted on NBC. The story of a kid from West Philly (born and raised) who moved to Bel-Air to live with his wealthy aunt and her family changed television forever. On his social media, Will Smith posted a photo in front of the Bel-Air house with the caption, "Moved in 33 years ago today." Even though the photo was taken in November 2020, when Smith and the cast toured the location for a reunion special, it still stirs our inner nostalgia. Happy 33 years to one of the most iconic television shows in history!

Spike Lee Calls Out Film Critics

On September 10, Spike Lee was honored with the Ebert Director Award, named after the late film critic Roger Ebert, at the Toronto International Film Festival's (TIFF) Tribute Awards. Ebert supported Lee over the years, and his widow, Chaz Ebert, delivered the award to him. However, Lee had some choice words for critics who have panned his 1989 groundbreaking film "Do the Right Thing" while paying homage to Ebert.

"Your husband got behind me when those motherf*****s in the press were saying that 'Do the Right Thing' was going to incite Black people to riot," Lee said to Chaz. Watch Lee drop all the facts in the clip above!

Nelly And Ashanti Found That Loving Feeling

It's like the early 2000s all over again—Nelly and Ashanti are once again booed up! On September 12, Nelly confirmed during an interview with "Love and Hip Hop" stars Rasheeda and Kirk Frost that he and Ashanti have reunited after a 10-year separation. 

"I think it surprised both of us, though. It wasn't anything that I don't think was planned," Nelly explained. Then, after arriving on the pink carpet at the 2023 MTV VMAs, Ashanti posted a throwback image of her and Nelly on her custom made purse. "So…in this pic, we exchanged numbers at the VMA's in 2003…20 years ago lol…" she wrote on her IG. 

This is the reunion we all needed!

Black Women Win Big At The VMAs!

On September 12, Ice Spice, SZA, Doja Cat, and Nicki Minaj won big at the MTV's Video Music Awards. Ice Spice landed Best New Artist, Nicki Minaj won Best Hip Hop Video for "Super Freaky Girl," and SZA snatched Best R&B Video for "Kill Bill." Doja Cat's "Attention" also won for Best Art Direction. Plus, Minaj slayed as host of this year's show. See her in the clip above for the 50th anniversary of hip hop tribute.

Diddy Receives The Global Icon Award

Speaking of the VMAs, Diddy was honored with the Global Icon Award. The award came just days before the debut of his sixth studio album, "The Love Album: Off The Grid,. The 23-track project, available today (September 15), includes guest appearances from Mary J. Blige, Teyana Taylor, Burna Boy, Babyface, and many, many, many more. 

See Diddy's powerful acceptance speech at the VMAs above and check out BET.com's interview with the music mogul. 

Alicia Keys, Grandmaster Flash, And More To Be Honored By The Black American Music Association

On September 13, the Black American Music Association announced the inaugural ICE Medal of Honor celebration would be held at the Ray Charles Performing Arts Center at Morehouse College on October 15, 2023. According to a recent press release,  Alicia Keys will receive the Ella Fitzgerald "Gold Standard Award," Grandmaster Flash will be honored with the "Transformative Award," and Jimmy Jam and Terry Lewis will be given the "Creative Impact Award." Additionally, philanthropist Robert Smith will be celebrated with the Ray Charles/Harry Belafonte "Patron of Arts Award." In 2019, Smith made international news when he pledged to eliminate the student debt for the Morehouse class of 2019. 

The show will include live performances and powerful tributes. Click here for more information.

Justice For Michael Irvin

It's a moment of redemption for Pro Football Hall of Famer Michael Irvin. He has settled his lawsuit against Marriott International after he was accused of misconduct. In February, Irvin filed a lawsuit against Marriott and six others after a hotel employee at the Renaissance Phoenix Downtown Hotel accused him of misconduct during the week of the Super Bowl. When the alleged incident became public, ESPN removed Irvin from covering the NFL. According to Irvin's account, the interaction with the hotel employee lasted no more than 45 seconds. Irvin vehemently denied any wrongdoing, and no criminal charges were filed over the incident. According to Sports Illustrated, Irvin settled for a whopping $100 million and has now returned to "Game Day" on the NFL Network. See him make his triumphant return above.

Taraji P. Henson Celebrates Her 53rd Birthday!

Taraji P. Henson, known for her extraordinary talent and captivating performances, celebrated her 53rd birthday on September 11. 

Born in Washington, D.C., she first garnered widespread recognition for her role in the critically acclaimed 2001 film "Baby Boy." However, her iconic portrayal of Cookie Lyon in the hit television series "Empire," from 2015 to 2020, truly solidified her status as an industry powerhouse. Her filmography also includes memorable performances in 2016's "Hidden Figures" and 2008's "The Curious Case of Benjamin Button," for which she earned an Oscar nomination. 

See her in the photo above, living it up with her BFFs! Happy birthday to our number one girl!

Fisk University Announces New President!

On September 12, Fisk University announced that Dr. Agenia Walker Clark had been appointed as the 18th president of the prestigious HBCU. According to The Tennessean, Clark, who was previously the CEO of the Girl Scouts of Middle Tennessee, will begin on November 6 and said in a statement, "To serve a new generation of brilliant, socially minded students—not unlike their counterparts of decades past, like W.E.B. Du Bois, Ida B. Wells-Barnett, John Lewis, and Dr. Diane Nash—is surely the honor of my lifetime. No institution of higher-ed has a richer legacy—or a richer promise for the future—than Fisk." 

Dr. Agenia Walker Clark is the third woman to serve as president of the institution.

NC A&T Remains The Largest HBCU

Dr. Agenia Walker Clark being named president of Fisk University isn't the only fabulous HBCU news this week! North Carolina Agricultural and Technical State University has enrolled 13,883 students for the 2023–24 school year, which is 400 more students than the school admitted last year. The institution is the largest HBCU in the nation for the tenth year in a row, according to the school's website. In addition to being the largest HBCU, NC A&T tied with Claflin University for number 9 on the 2022–2023 U.S. News & World Report top HBCUs list. Congrats to NC A&T and all the other illustrious HBCUS!

Check out BET's HBWeCU microsite, a celebration of the best in Black Excellence coming from our Historically Black Colleges and Universities.