Kamala Harris Announces $100 Billion Housing Assistance Plan For Black Families
The senator and presidential candidate claims the bill will offer "a real shot at homeownership."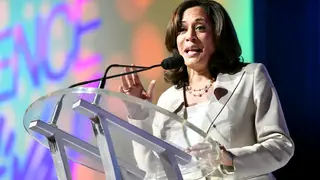 Kamala Harris announced on Saturday (July 6) that she wants to invest $100 billion into housing assistance for Black families as part of an agenda to close the racial wealth gap in the United States.
Appearing at Essence's Global Black Economic Forum, the California senator stressed the role of homeownership and claimed she would assist four million homebuyers through down payment and closing-cost assistance. That help would come through granting up to $25,000 in down payment assistance from the Department of Housing and Urban Development.
"After generations of discrimination, it's time to give Black families a real shot at homeownership," Harris tweeted on Saturday (July 6).
Harris' program plans to target residents in red-lined communities, where lenders have been dissuaded from investing by the Home Owners' Loan Corporation.
"If we eliminate racial wealth disparities in homeownership rates, median Black wealth would grow $32,113 per household, and the wealth gap between Black and white households would shrink 31 percent," Harris' campaign said. "Redlining has resulted in households of color receiving just 2% of the [Federal Housing Administration] loans expanded between 1934-1962, and formerly redlined neighborhoods are sites of deep racial disparities in home value and lending activity."
Harris' plan would also seek to increase credit access by altering credit reporting standards to include payments on credit cards, auto loans, student loans and mortgage payments.
Kamala Harris' introduction of housing assistance comes just days after she and Joe Biden got into a back-and-forth during the Democratic presidential debate over busing as a means to desegregate communities across the United States.