Get Ready! BET Partners With IHeartMedia To Air "The Breakfast Club" On BET
The award-winning morning show with DJ Envy and Charlamagne Tha God will be televised weekdays starting on Monday, April 17.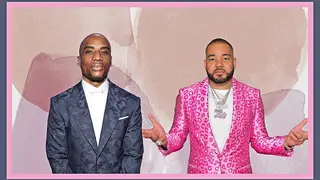 Breakfast has been served!
BET announced today (Thursday, March 30), a new partnership with iHeartMedia that will bring the award-winning hit morning show "The Breakfast Club" starring DJ Envy and Charlamagne Tha God from iHeartMedia New York's Power 105.1 to BET's 2023 programming lineup. 
BET will televise a one-hour special edition of "The Breakfast Club" daily Monday through Friday. Episodes will begin on Monday, April 17 at 9 AM ET on BET and VH1 and then will be available to stream every Sunday on BET+.
These specials will feature unrivaled interviews and conversations with celebrities, artists, and thought leaders along with entertainment news and conversations punctuated with The Breakfast Club's signature blend of honesty and humor. The wildly popular, culture shifting morning show will be available weekdays to millions of fans.
"The Breakfast Club on BET" marks the brand's return to producing daily programming for the first time since "106 & Park" in 2014. It also marks the brand's noteworthy and exciting introduction to daytime television.
"We're thrilled to partner with iHeartMedia to bring The Breakfast Club and their unique brand of entertainment and cultural commentary to our audiences," said BET CEO and President Scott Mills. "We recognize the show's influence and popularity, and we are confident that the partnership will be meaningful to our viewers and to our partners. Hosts Charlamagne and DJ Envy are long time members of the BET and Paramount family, so we couldn't be more excited to welcome The Breakfast Club home to BET."
"BET and iHeartMedia have a shared mission in engaging and entertaining lovers of hip-hop culture, so this partnership couldn't be a better fit," said Brian Rikuda, EVP, Enterprise Growth Strategy, Business Operations, and Programming Strategy, BET. "This addition to BET's programming lineup will superserve our loyal audiences with fresh content from the celebrities they love and expand our reach to new daytime audiences."
Each episode of "The Breakfast Club on BET" will feature the A-list celebrity interviews that are a mainstay of the broadcast radio edition, as well as the signature segments audiences have come to know and love, like "Front Page News," "The Rumor Report," and Charlemagne's "Donkey of the Day."
"What began as a daily morning radio show over a decade ago in New York City, has now become a cultural beacon across America," said John Sykes, iHeartMedia's president, Entertainment Enterprises. "This new partnership with BET will expand the radio show's reach to millions more watching on this iconic television network."
"I'm looking forward to the opportunity to showcase The Breakfast Club on BET," said DJ Envy. "I love what the new BET is doing!"
"BET has been the home of so many cultural institutions, like Rap City and 106 & Park, that have shaped a generation," said Charlamagne Tha God. "Those shows laid the foundation for The Breakfast Club to stand on and grow into the cultural institution that we have become. We look forward to carrying on the tradition."
"The Breakfast Club and BET are a perfect partnership," said Thea Mitchem, iHeartMedia's Executive VP of Programming. "We're excited to team up with BET to expand the reach of The Breakfast Club as they continue to entertain, enlighten, and uplift culture."
"The Breakfast Club" has become the bullhorn for modern culture and is widely regarded as the most informative and entertaining top-rated contemporary Hip-Hop/R&B morning show today. The Breakfast Club has become a must-stop destination for musicians, entertainers, and politicians alike with guests on the show ranging from former President Barack Obama, President Joe Biden, and VP Kamala Harris to Jay-Z, Cardi B, Kendrick Lamar, Kevin Hart, Snoop Dogg, Future, 50 Cent, Lizzo, Will Smith, and Alicia Keys. 
The morning program originates from iHeartMedia's legendary Power 105.1/WWPR-FM in New York and is nationally syndicated by Premiere Networks on more than 100 stations nationwide, including markets such as Houston, Atlanta, Miami, and Detroit. The Radio Hall of Famers also host "Weekends with The Breakfast Club," a three-hour weekly program featuring a countdown of the top 20 hits of the week.
Use #TheBreakfastOnBET to find out what people are saying about this exciting new chapter at BET.