Who's The G.O.A.T.? No Limit Soldiers vs Rap-A-Lot | Round 1
In the tournament to decide the greatest rap crew of all time, this Round 1 battle is a Dirty South decision between No Limit and Rap-A-Lot.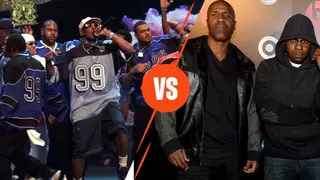 wen recognition of hip hop's 50th anniversary, BET Digital, in partnership with Ambrosia For Heads, is celebrating the culture by hosting a bracket-style competition that allows you to determine hip hop's greatest crew.
Rather than having "experts" tell you who is the greatest of all time, this is your opportunity to collectively make that decision. After giving the opportunity to any and all fans to provide feedback on which crews should be included, 32 collectives from different regions, styles, and generations have been selected—all vying for that #1 spot. When the final battle is over and the last vote is cast, you will have determined who is your Greatest Rap Crew of All Time.
Located less than 400 miles apart, two crews launched movements that solidified their two cities as among the most important in hip hop, and served as further proof of Andre 3000's exclamation that "the South has something to say." 
In the 1980s, J. Prince curated a Rap-A-Lot crew that garnered critical acclaim over a 20-plus-year path of hit songs, platinum albums, and a refusal to conform. In New Orleans, Master P and his No Limit crew gave way to a meteoric rise that took talent from around Louisiana and beyond and earned them plaques, chart appearances, and industry-wide recognition. In both cases, it was far more significant than a label, as these crews moved like family, emphasizing pushing talent into the spotlight and demanding recognition. Only one of these crews can remain as the Dirty South region's bracket slims down to four.
No Limit Soldiers
Percy Miller's New Orleans movement combined elements of his city's bounce music sound with lyrics drawing from Master P's time in Richmond, California. After an onslaught of indie music throughout the 1990s, the No Limit tank gained massive momentum in 1997. In that year and the two that followed, No Limit released nearly 50 albums—an astounding number, particularly for an independent record label. Part of what allowed No Limit's prolific output was the in-house production team, Beats By The Pound, whose output was both commercially successful and distinctive. 
As Master P and Mia X cracked (and topped) the charts, No Limit emphasized its crew loyalty through feature-packed albums, high-profile compilation work, and using its successful artists to market emerging voices from Louisiana to Oakland. No Limit often released multiple CD inserts (compact discs were the most popular music format at the time) showcasing  new music from other No Limit acts. 
Ahead of his multi-platinum success, P's brother Silkk The Shocker was a fixture on early No Limit hits, with Fiend and the boisterous Mystikal using these launchpads for their solo plaques and recognition. When P's company bought Snoop Dogg's Death Row Records recording contract, rather than keep the dealings to business, Snoop relocated to Louisiana and immersed himself in the squad, charting songs with P, C-Murder, Fiend, and Mystikal. As he had done with TRU, Master P grouped units like the 504 Boyz to represent the crew, and brand new artists, including a young Curren$y. Twenty-plus years later, following BET's 2020 "No Limit Chronicles" docuseries, many No Limit Soldiers continue to tour together.
Rap-A-Lot
The Houston, Texas-based Rap-A-Lot family blazed a trail in hip hop, especially in the South. At the center of this crew is James "J. Prince" Smith, a label impresario who has offered spoken word and rap passages alongside his talented crew of rappers and producers. For over 20 years, Scarface was a flagship voice in the Rap-A-Lot posse, first as a member of the J. Prince-assembled Geto Boys and, later, on solo albums that made for one of the most respected catalogs in all of rap music—including chart-topping LPs, four platinum albums, and a coveted "5 Mic" rating from The Source magazine for his album "The Fix."
In this celebration of hip hop and all of its talented crews, your vote decides the winner.
---
EDITOR's NOTE: Register for the sweepstakes for a chance to win the grand prize of (2) two tickets to the 2023 BET Awards,(2) two round-trip airline tickets, and a 2-night hotel stay on June 25. Up your chances to win by voting weekly.
NO PURCHASE NECESSARY TO ENTER OR WIN. VOID OUTSIDE OF THE 50 U.S. & D.C. AND WHERE PROHIBITED BY LAW. Open to legal residents of the 50 U.S. & D.C. who are 18 years of age or older at the time of entry. Ends at 12:00 p.m. ET on May 1, 2023. Official Rules: bet.com/grcoat-official-rules. Sponsor: Black Entertainment Television.