The 2019 'Mister Global' Beauty Pageant Has Ladies Across The World Swooning
Houssem Saïdi of Tunisia was the 1st runner-up of the annual male beauty pageant.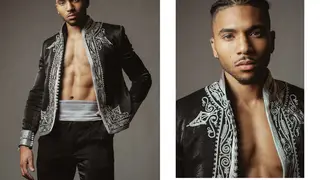 In its fifth year, the Mister Global men's beauty pageant is basically a slew of sizzling, shirtless men from all around the globe competing, and we're sad we didn't hear about it sooner!
For the 2019 Mister Global beauty pageant, men from around the world posed in national costumes representing the traditions and cultures of their home countries for breathtaking portraits taken by photographer, David Ryo. The competition, held on September 26 and hosted in Thailand every year, follows the format of typical beauty pageants, like Miss Universe, with men competing for the title of the most 'Inspiring Gentlemen' for their involvement in various philanthropic endeavors and as leaders in their community. Oh, did we mention they were hot?
The stunning portraits featured the contestants from various countries such as Haiti, Nigeria, and more, showing off their best, smoldering stares while representing their home country in traditional garb. Some were shirtless with elaborate headdresses while others were fully clothed in the customary fashion from their country. All-in-all, the portraits of these inspiring gentlemen representing their respective countries' rich cultures had our jaws on the floor.
Check Out The 38 Hotties From The 2019 Mister Global Beauty Pageant:
Winner: Mister Global Korea | Jong Woo Kim

1st Runner Up: Mister Global Tunisia | Houssem Saïdi

2nd Runner Up: Mister Global Spain | Jose Luis Rodrigo

3rd runner-up: Mister Global Switzerland | Kenan Murseli

4th runner-up: Mister Global Dominican Republic | Braulio Encarnación

Mister Global U.S.A | Branden Cruz

Mister Global Haiti | Tcholo Medastin

Mister Global Nepal | Aryan Sitaula

Mister Global Mexico | Manuel Duarte

Mister Global Thailand | Jeerawat Vetsakol

Mister Global Puerto Rico | Edgar Irizarry

Mister Global Brazil | Gill Ruapp

Mister Global Egypt | Adam Hussein

Mister Global Sweden | Sebastian Jonsson

Mister Global Nigeria | Triumph Moses

Mister Global Guam | Jonathan Edward Onedera

Mister Global China | Ruihu Chen

Mister Global Portugal | Angelo Amaro

Mister Global Poland | Michał Jan Grudzień

Mister Global Malaysia | Chris Chan

Mister Global Taiwan | Kevin Chang

Mister Global Togo | Kwassy Adjamah

Mister Global Chile | Nelson Caceres

Mister Global Peru | Miguel Millasaky

Mister Global Laos | Kiengkai Xouansouandao

Mister Global Myanmar | Thiha Kyaw

Mister Global South Africa | Marcus Karsten

Mister Global India | Rishabh Kumar

Mister Global North Cyprus | Süleyman Mullahasan

Mister Global Hong Kong | Chace Cheng

Mister Global Czech Republic | Thanh Tung Cao

Mister Global Sri Lanka | H. Maduranga Dilshan

Mister Global Japan | Kodai Hata

Mister Global Cuba | Rubert Manuel Arias

Mister Global Panama | Kenny Guerra

Mister Global Philippines | Ricky Gumera

Mister Global Vietnam | Nguyễn Hùng Cường

Mister Global Indonesia | Herman Yosef Cahyono