New Forbes Africa Magazines Tap Into Female Audience
The South Africa-based ABN Publishing recently launched Forbes Women Africa and Forbes Life Africa to tap into a wider audience.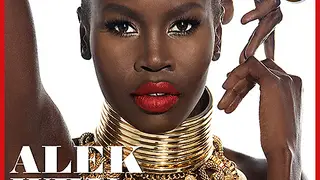 (Photo: Forbes Life Magazine, October 2013)
South Sudanese supermodel Alek Wek is featured on the cover of the first African issue of Forbes Life. The cover story claims to give readers a glimpse into the model's life at New York Fashion Week, further emphasizing the impact globalization has had on the magazine's cosmopolitan African demographic.
The first-ever issue of Forbes Women Africa includes a cover story about the life of Dr. Precious Moloi-Motsepe, a South African-based businesswomen, philanthropist and fashion entrepreneur.
A list of the world's 100 most powerful women and a story on the United Nations Under-Secretary-General and Executive Director of UN Women for South Africa Phumzile Mlambo-Ngcuka are also featured.
"There are so many stories of success on the African continent that we will never be able to do justice to all the women making a difference in the corporate world, which is the principal reason why I took the decision to have a separate magazine for women," said Rakesh Wahi, founder and vice chairman of ABN Group, the company publishing the magazines.
"We are looking forward to making this the most sought-after business magazine for women on the continent."
BET Global News - Your source for Black news from around the world, including international politics, health and human rights, the latest celebrity news and more. Click here to subscribe to our newsletter.