'Dreaming Whilst Black': Explores the Shared Struggles and Triumphs of Black Lives in the U.S. and U.K.
In a conversation about the Showtime comedy-drama series 'Dreaming Whilst Black,' director Koby Adom delves into the show's exploration of cultural diversity and shared racial hurdles, bridging Black experiences across the Atlantic.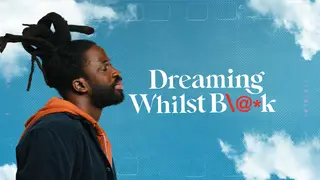 Black Americans can often feel as though our experience in the United States is like nowhere else in the world, and to a large extent, that's true: from our style to our dances to the unique type of discrimination we push through every day, being American and Black is a singular way of life. Yet there are similarities between the Black American experience and Black life in other countries, particularly in the U.K. there are some 4.2 million Black-identifying people, many of whom have roots in the Caribbean or Africa. Like Black Americans, Black Brits have a thriving, massively influential culture. Black Brits, unfortunately, also have plenty of firsthand knowledge of what it's like to deal with prejudice and racism––an experience captured in the hilarious and poignant Showtime comedy-drama Dreaming Whilst Black.
Adapted from the web series of the same name that debuted in 2021, Dreaming Whilst Black is about a young Black man named Kwabena (Adjani Salmon) who is trying to become a full-time filmmaker while juggling a sucky day job, managing a kooky set of family and friends, and navigating the pervasive hurdles and micro-aggressions that come with being Black. Co-produced by the artsy house A24, Dreaming Whilst Black explores Kwabena's world in six addictive and funny episodes that take the viewer inside Kwabena's mind––the "dreaming" in the title alluding to Kwabena's daydreams that we sometimes get to see. Toggling between laugh-out-loud funny and emotionally resonant, Dreaming Whilst Black shows how, although Kwabena is a second-generation Jamaican Londoner with friends and lovers whose roots pan the diaspora, the stuff he goes through in the workplace and with white people who can fund his creative dreams is very, very much akin to what Black folks endure in the U.S.
"A lot of times everyone is a bit surprised that we're experiencing the same things," says Nicola Gregory, a producer on the series who was born in the U.K. but raised in Toronto. "But this is a story that resonates with everyone––Black audiences, audiences of color, and anyone who is dreaming or pursuing their dream. But if we're talking about the Black experience specifically, it travels. It's a very familiar story."
When we first meet Kwabena, he's adrift––sleeping––at the dreadful day job as a recruiter, he needs to pay bills. Right away, viewers get a taste of the cultural lampooning the show does throughout, in the form of a white colleague (not) delicately asking Kwabena's help in wooing a woman with "flavor" (read, Black). It's a brazen, lowkey offensive request steeped in a total lack of awareness that becomes a running theme throughout the episodes as Kwabena and his friends deal with similar 'Wait, what did you just say?' moments we all know too well. Yet there's something brighter on the horizon: he gets word that a company might be interested in his passion project, a romance inspired by his family emigration story Jamaica Road, and Kwabena has to make the somewhat scary choice to risk the security of a steady gig or go for his dream.
"The character is written perfectly for the Black filmmaker who went to film school who's been in any part of the industry," says Koby Adom, the Ghanaian-British director who shot the episodes, which go on to show how Kwabena's choice to pursue his creative aspirations doesn't suddenly make everything easier; the road is filled with setbacks, diversity programs that pigeonhole him into a Black trauma trope, and even other Black people in positions of power who stifle Kwabena with limited options. "The journey [for Kwabena]," Adom says, "is really about how to overcome the obstacles, and once you have overcome it, what does that actually mean? I think it's sort of like an obstacle course."
There's a lot of joy in the series, too: Kwabena finds a love interest, Vanessa (Babirye Bukilwa); there's a festive wedding, a baby, and a compelling exploration of the various African and Caribbean cultures within Kwabena's world that reveal a lot about Black British society and keep viewers rolling on the floor laughing. By the end of the first great season, Kwabena lands several victories we can root for but enough heartache and looming questions to build intrigue about what'll happen next with Kwabena and his dreams.
"I think it is going to connect to the American audience in the sense of, we all have that foundation [of Black identity]," Adom says, "but you also get access to Nigerian characters, Jamaican culture, Ghanaian culture, Ugandan culture…it's a landscape of diversity, and specificity. This story is coming from across the pond but it's about the existence of the 'other' where the majority doesn't really understand them. That's universal."
Dreaming Whilst Black begins streaming on the Showtime/Paramount+ app Sept 8 and airs on Showtime beginning Sept. 10.