Health Hero: Empowering Black Women to Talk About Safe Sex and Stigma
Luvvie Ajayi's Red Pump Project reminds us that HIV is 100 percent preventable.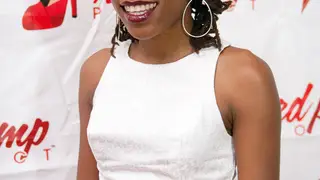 It's not a secret that African-American women are disproportionately affected by the HIV/AIDS epidemic. Every year, roughly 5,300 Black women are newly diagnosed with the disease and we are 20 times more likely to be infected than white women.
And yet, there is still so much stigma and silence surrounding the epidemic.
To break that silence, Chicago natives Luvvie Ajayi (head blogger for Awesomely Luvvie) and Karyn Watkins (an avid health care and nonprofit communicator) created The Red Pump Project. What started out as a blog to galvanize Black women across the U.S. to share their stories about either being infected with or affected by HIV/AIDS has become a nationwide organization. Not to mention, they have mixed fashion (fierce red pumps) and AIDS awareness to change the way that we talk about prevention, safe sex and empowerment.
BET.com sat down with co-founder Luvvie Ajayi to talk about why empowering Black women is crucial in fighting AIDS.
How did The Red Pump Project come about?
I had always been interested in the HIV/AIDS epidemic. I briefly worked at an AIDS service organization doing event planning, but also a friend of mine's cousin has 20 cousins who lost their parents to AIDS. So, I've seen firsthand what this epidemic does to families.
So Karen and I wanted to uplift women's voices and create a safe space for them. We asked women from all over to write blogs for National Women's and Girls HIV/AIDS Awareness. Some of the women talked about their personal experiences, others talked about their feelings about HIV and how it impacts the Black community. Over the years, we have seen that the blogs have become a lot more personal. They are really powerful.  
What types of projects do you do during the year?
We have our annual fashion show, which is a night where we merge our love for fashion and HIV/AIDS awareness. The women wear red pumps and the men have red ties and we have a great evening.
Throughout the year, we host events and programs that take place in our affiliates in cities such as Atlanta, Dallas, Charlotte, Chicago and D.C. For example, we have our Condoms and Cupcakes program where we have desserts and talk to women about using condoms properly, female condoms and their own feelings and insecurities about talking about safe sex with their partners.
There are power dynamics in relationships and we have found that a lot of women are not comfortable being forceful about using condoms with their partners or talking about HIV testing or even getting tested together. We hope that these types of programs can normalize these conversations and empower women to own their bodies and their health. Hey, if you can talk about sex on Twitter, why can't you do it in a relationship?
It's also really important for us to have stories of women who are living with this disease and living with it well. But we also don't want for people to have to live with it either and so while HIV is a manageable disease where you can live a productive life, it's not the flu either.
How has the community responded to the Red Pump Project?
The Red Pump Project's goal is to remind women that they are not alone and that there should be no shame in talking about HIV. And in that the response has been really great.  
Any advice for our readers about preventing HIV/AIDS?
Remember that HIV/AIDS is 100 percent preventable. That's why being empowered and having control over your body is so important in making sure that you get tested and use condoms to protect that body.
BET Health News - We go beyond the music and entertainment world to bring you important medical information and health-related tips of special relevance to Blacks in the U.S. and around the world. Click here to subscribe to our newsletter. 
(Photo:  Dare2Dream Photography)