LaVar Ball Reportedly Turned Down a $10 Million Shoe Deal for Lonzo
He's currently asking for $3 billion for his Big Baller Brand.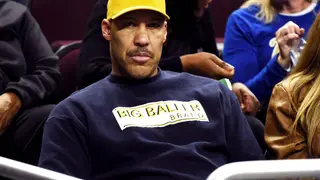 Well, a recent report claims that Mr. Ball's outlandish request cost his son Lonzo Ball a $10 million shoe deal that each of three aforementioned sneaker companies were prepared to offer him.
"We said Tiger [Woods] might be the next [Michael] Jordan taking over, but there is no next Jordan in basketball or probably no next Jordan anywhere," Rovell said, explaining part of the reason why sneaker companies weren't feeling Mr. Ball's demand. "I know that's going to disappoint LaVar Ball, but I think you have to say that."
With Lonzo expected to be selected second overall at next month's NBA Draft by the Los Angeles Lakers, LaVar might have a chance to redeem himself. However, the controversial hoops dad already might have squandered that opportunity by recently saying he's going to raise his offer from $1 billion to $3 billion for sneaker companies to co-brand with BBB.
"It's strange to me that LaVar didn't at least fold some of his cards and go back to the shoe companies in earnest," Rovell continued. "After the Lakers thing goes down and the perfect scenario is going to unfold, the new deal, Nike (to) five years and $20 million. But what does LaVar Ball do? Instead of saying he now wants $1 billion, he now wants $3 billion."
He added: "I guess the story becomes more intriguing in that if he goes to the Lakers, he could've doubled his deal and decided to pass. And I think that's why this story is something people want to read. It makes the story a lot more intriguing in that he's continuing to go along with the fact he believes this is going to be a real brand."
Will LaVar and his son Lonzo have a chance to recoup that $10 million or more from Nike, Adidas or Under Armour, or do they have a legit shot to net a lot more with Big Baller Brand?
BET Sports News — Get the latest news and information about African-Americans in sports, including weekly recaps, celebrity news and photos of your favorite Black athletes.