May's Jobs Report Forecasts a Cloudy Economic Recovery
The national unemployment rate rose to 8.2 percent in May. The Black unemployment rate also rose from 13.0 percent to 13.6 percent.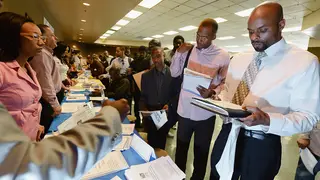 Signs of a weakening economy dashed hopes of a positive May jobs report and the numbers confirmed that pessimism. The African-American unemployment rate rose to 13.6 percent, from 13 percent in April. The national rate also rose to 8.2 percent from 8.1 percent.
First-time jobless claims ticked up significantly last week to a seasonally adjusted 383,000, the highest level in five weeks and an increase from the previous week's upwardly revised figure of 373,000, the Labor Department reported Thursday. Economists estimated that the report would show the economy had added about 150,000 jobs in May, but it in fact added just 69,000, the fewest in a year.
"At that rate the unemployment rate will slowly, slowly, slowly tick down, but it's nowhere near the kind of job growth that we would need to bring unemployment down quickly," said Heidi Shierholtz, an economist at the Economic Policy Institute. "We would have to add around 350,000 each month to get to full employment in three years."
Before the numbers came out, she predicted that the Black unemployment rate would stay at 13 percent or perhaps even go up a point.
Republicans were eager to place the blame for an anemic economy at President Obama's feet, none more so than Mitt Romney, who secured his party's nomination this week.
"It is now clear to everyone that President Obama's policies have failed to achieve their goals and that the economy is crushing America's middle class. The president's re-election slogan may be 'forward,' but it seems like we've been moving backward," Romney said. "We can do so much better in America. That's why I'm running for president."

Maryland Rep. Elijah Cummings pointed his finger toward his colleagues on the right and what he views as a reluctance to do their part to decrease unemployment by passing a transportation bill, for example, that would create hundreds of thousands of jobs. They want to see Obama fail, he said, to increase the odds of a November victory for Romney.
The White House responded to the dismal jobs report with a reminder that the nation is still fighting back from an economic crisis that began before Obama took office and cannot be solved overnight.
"As the administration stresses every month, the monthly employment and unemployment figures can be volatile and employment estimates can be subject to substantial revision," said Alan Krueger, chairman of the White House Council of Economic Advisers. "Therefore, it is important not to read too much into any one monthly report and it is helpful to consider each report in the context of other data that are becoming available."
But lingering high unemployment, Shierholtz noted, also hurts those who are fortunate enough to have a job.
"There's a lack of opportunity for advancement for people with jobs. Your employer doesn't have to give you big wage increases to keep you," she said. "If you want to switch jobs, there are few outside opportunities. So family incomes are taking a hit."
BET National News - Keep up to date with breaking news stories from around the nation, including headlines from the hip hop and entertainment world. Click here to subscribe to our newsletter. 

(Photo: Kevork Djansezian/Getty Images)