LeBron Got This Video Salute From Jay-Z, Diddy, Drake And Dave Chappelle After Becoming The Youngest NBA Player Ever To Reach 30,000 Points
King James is only the seventh player in league history to reach the plateau.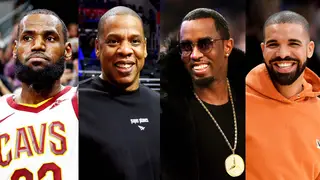 History made. At 33, LeBron James became the youngest player in NBA history to reach 30,000 career points last night during his Cleveland Cavaliers' 114-102 road loss to the San Antonio Spurs.
And many of his friends, including Jay-Z, Diddy and Drake to name a few, appeared in an Uninterrupted video to salute King James on the milestone.
"Congratulations to my brother, LeBron James," Hov says in the clip. "You inspire us all on and off the court, all the work you do coming from the neighborhoods we come from. We're so proud of you. The most-unselfish King in the world."
Added Drake moments later: "It's incredible. It seems like every time we look up, you're setting another milestone or breaking another record. And I always tell you, 'you're one of the most inspirational people in my life.' I'm honored to call you a brother."
Diddy summed it up quite well, saying, "My hat goes off to you, my brother. We love you, we appreciate you, we congratulate you!"
While the video also includes the likes of Kevin Hart, Dave Chappelle and Shaquille O'Neal offering their congrats to LeBron, the clip ends with James' son, LeBron James Jr., his adorable daughter Zhuri and wife Savannah offering heartfelt words towards their King.
Zhuri saying, "Congratulations, daddy, I love you" was too precious.
James drained a long jumper with time running out in the first quarter last night to enter the 30,000-point club.
The only other six NBA players to be part of the 30,000-point club are: Wilt Chamberlain, Kobe Bryant, Dirk Nowitzki, Karl Malone, Michael Jordan, and Kareem Abdul-Jabbar.
James took the time to speak with ESPN about joining such great company, calling it a "special moment."
"I don't ever fully appreciate what I do anytime I accomplish something, no matter if it's a win or a loss," James said, as reported by ESPN. "I'm looking forward to the moment when I can be done with the game and I can sit back with my family and my friends and we can drink some wine and talk about all the accomplishments that I had and feats I was able to accomplish."
Yesterday, before Tuesday night's game, James wrote this Instagram post, congratulating himself before reaching the 30,000 points milestone.
The Dallas Mavericks' Nowitzki is currently ahead of James at sixth on the NBA's all-time scoring list. Abdul-Jabbar sits atop that list with 38,387 career points.
Salute to King James on the accomplishment. His Cavs will be back in action, hosting the Indiana Pacers on Friday night.
BET Sports News — Get the latest news and information about African-Americans in sports, including weekly recaps, celebrity news and photos of your favorite Black athletes.