Lauren London Shares Her 'L.A. Love Story' + Reveals Nipsey Hussle's Motto That She Keeps Close To Her Heart!
The actress spoke to BET.com the motto emblazoned on pieces from her new collection with PUMA.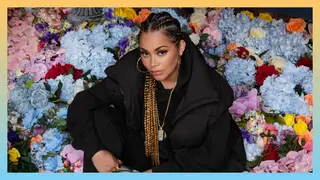 For some, Los Angeles is the home of Hollywood. For Lauren London, L.A. is more than a place where dreams are made. It's where she grew up, where she met and fell in love with the late Nipsey Hussle, and where she continues to raise her children.
Her love for her hometown ultimately inspired her new collaboration with Puma, which serves as the second partnership between the actress and the popular footwear and apparel brand.
When we had the opportunity to chat with Lauren days before the launch of her new 10-piece collection, we quickly understood why it was named the creative's L.A. Love Story.
Simply put, each piece acts as a love letter to the place she shared so many lasting memories, and legendary director and photographer Hype Williams beautifully captured the aesthetic in the new photo campaign.
"Los Angeles is a very huge part of me and how I was raised," she told BET Lifestyle about the inspiration behind the collaboration. "I want it to be very true to who I am. When people buy into other people, they're buying into their truth. I want to be very, very honest. It is an ultimate love story."
The bustling city has also influenced Lauren's personal style, which she says consisted mostly of hoodies, sweatshirts, tracksuits, and jumpsuits in her youth. She describes her adult style as "laid back" and a reflection of her vibe.
"Now, I'm just more comfortable in myself," the PUMA brand ambassador shared about the evolution of her effortless style and her love for streetwear. 
She continued, "I feel comfortable wearing things that suit how I feel each day. When I was younger, I think I would try really hard and wear what was trending. There is nothing wrong with that at all, I'm not saying that, but now I'm 37 and I want to wear what feels good and what makes sense for that day. And I think that might have just come with age. That's just how I'm showing up in my life right now. I'm just into being comfortable and adding pieces of myself into what I'm wearing."
The producer is also intentional about the adornments she wears. "I have a lot of crystals and sacred rocks that I like to put on for peace and protection and heart openers, chakras. So I'm very intentional with the adornments and stones that I carry throughout the day. And other than that, I think I'm just cozy."
Hoping everyone feels good vibes and confidence while wearing the fashions from her new line, Lauren made it her priority to design each item to be unisex. Even the colors were thoughtfully mapped out to represent the Los Angeles landscape. The California-born beauty says that special pieces from the line are even emblazoned with the words: "It's not on you, it's in you."
A motto Lauren keeps close to her heart. "I always want to honor Nip in all that I do, so there's a quote stitched into all the clothing. That motto is something he'd always tell me to encourage me, motivate me, and help me stay true to myself."
She continued, "It's a reminder that it doesn't matter what you put on, it doesn't matter what you have, it doesn't matter what you're covering yourself with—all that you really need is within you, all of who you are is within you. It's an inner thing. That's the message I want to give people as well. It's not on you, it's in you. All your specialness, all that light, that's in you. No one can take that away from you."
FYI: Starting today (Nov. 11), PUMA x Lauren London's L.A. Love Story will be available exclusively first on the PUMA mobile app. On Sunday (Nov. 13), the collection will be available globally in select retailers and online at PUMA.com, the PUMA NYC Flagship store, and Foot Locker. Prices range from $22 to $110.