Just How Amazing Was the Warriors' Draymond Green In Helping To Stave Off The Lakers?
Green scored 20 points and grabbed 10 rebounds in Game 5 of the Western Conference Semifinals.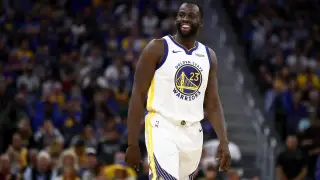 With their backs up against the wall, the Golden State Warriors, led by the inspired play of Draymond Green, displayed their championship mettle in a 121-106 defeat of the Los Angeles Lakers in Game 5 of the Western Conference Semifinals on Wednesday (May 10) night. The Lakers still lead the best-of-seven series 3 -2, but the Warriors showed who they are.
Green played with his usual reckless abandon on the defensive side but on this night, his offensive game was in high gear. The sometimes reluctant shooter scored 20 points, added 10 rebounds, and dished out four assists. He brought the energy and intensity that the Warriors' fan base has come to expect from the eight-time All-Defensive Team member.
"That's coming out aggressive on both ends of the floor. That's verbally so everyone hears you on the floor. I felt a little disrespected when he said it," Green said after the game. "I knew it was on me to come out and set the tone for our guys. ... Season is on the line, backs against the wall. You got to come out and give it all you got. That was my mindset."
In addition to Green's strong performance, Stephen Curry added 27 points for the Warriors. For the Lakers, Anthony Davis put up 23 points and nine rebounds before exiting the game after suffering an inadvertent blow to the head. LeBron James chipped in with 25 points and nine rebounds.
Looking to Game 6, Green understands that the Warriors have to maintain the same level of intensity if they are going to come out with a victory at Crypto.com Arena on Friday (May 12) night.
"We trust and believe in ourselves," Green said. "[But the Lakers are] not going to give it to us. They're going to come out and play aggressive. They have great leaders over there, incredible winners. They're not just going to fold. It's going to be on us to go in there and take it."