Uzo Aduba and Husband Robert Sweeting Celebrate 1st Wedding Anniversary
"You have made my entire life better," said the actor.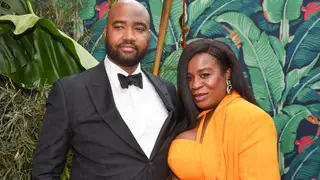 Uzo Aduba is celebrating one year of marriage to her husband, Robert Sweeting.
The Orange is the New Black alum took to social media to mark their special milestone. Along with loving words, she included beautiful moments from their wedding day.
For their nuptials, the couple slayed!
The couple is photographed wearing vibrant, classic African attire to pay homage to their heritage. The actor is seen in an orange ensemble with embellishments and three large necklaces with gold details. Her hair was styled in a grand bun, accentuated with a headpiece that matched her gown. Her hubby rocked an off-white pantsuit punctuated with roaring lions throughout the top half of his jacket, along with a black kufi accented with gold leaves.
In the photos, the duo is captured walking up stairs as Sweeting leads his bride by the hand. The second frame shows the husband and wife striking a pose and looking like royalty while gleaming at the camera.
"Our Anniversary. This is from our Traditional Nigerian Wedding Ceremony(Igba Nkwu). This day meant so much to us," the doting wife began the caption on Instagram. "You have made my entire life better, more full. I am so thankful our souls found each other."
"I've loved sharing every step of this journey with you, @robertsweetinglife and cannot wait to experience new chapters, next chapters, new pathways with you. I love you so much. Thank you also for loving me. So much. Happy Anniversary. Your Wife, Uzo," she concluded.
"What a blessing. My husband Robert and I are so happy to enter this next chapter together as parents. I am beyond excited", she captioned the post. "I get to be someone's Mommy! I know as the three of us continue to grown our only, ONLY goal will be to love you, little one. My goodness. Look what God has done."