Praise Be the Ballot Box: CBC Launches Freedom Sundays to Turn Out Voters
African-American voters will be key players in several Democratic races.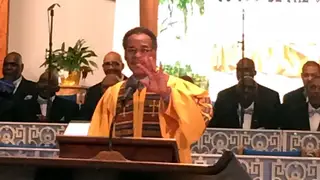 When Black people vote, big things can happen. President Obama could not have made it to the White House without them. Conversely, the weeks of unrest in Ferguson, Missouri, this summer after the fatal shooting of unarmed teen Michael Brown symbolizes what happens when they stay at home on Election Night.
To drive home that message, pastors in thousands of churches across the country this week delivered the first of several Freedom Sunday sermons in which they're urging all souls to head to the polls for the November midterm elections. The Congressional Black Caucus, which is spearheading the initiative, is praying that it will help Democrats keep control of the U.S. Senate and maintain their seats in the House.
"We must do more to encourage the members of our community to stand up and be counted to ensure that we are selecting leadership that is accountable to all," Missouri Rep. Emanuel Cleaver, an ordained Methodist minister, told a packed Mount Jezreel Baptist Church in Silver Spring, Md., on Sunday.
The goal of the sermons, said Cleaver, who prepared training materials for the pastors, are not to tell people who to vote for, but to elect candidates who share their values and views.
The multi-state campaign is focusing on key battleground states, including North Carolina, Georgia, Arkansas, Louisiana and Kentucky, where African-Americans comprise between 15 and 30 percent of the voting population. It's also targeting 19 House districts where they can make the difference between winning and losing a tight race. In addition, there are also 36 gubernatorial races this year.
"You're going to see us everywhere," Ohio Rep. Marcia Fudge, who chairs the CBC, told reporters at a Friday press conference.
"We know that they're key to our success," said Democratic strategist Donna Brazile, adding that "each and every day," voting rights advocates will be in courts litigating efforts to restrict minority and other voters' ability to cast ballots.
In addition to funding the Freedom Sunday initiative, the DNC in a separate GOTV effort has spent $1 million on national radio ads featuring Obama that began airing Monday on syndicated shows like The Tom Joyner Morning Show and Keepin' It Real With Rev. Al Sharpton.
This year, Fudge told reporters, much is at stake. If the GOP wins the Senate, she warned, "Our lives will be miserable for the next two years."
Republican control of both chambers of Congress, she predicted, will mean two years of gridlock, cuts to entitlement programs like Medicaid and Medicare, efforts to raise the eligibility age for Social Security and other changes that Democrats will need 10 years to reverse.
"And the other thing they will do is continue to try to make our president an illegitimate president. That's what it's all about — suing the president, the president wasn't born here, he wasn't smart enough to go to Harvard, he's lawless," Fudge said. "We're going to have two more years of that foolishness if they take back the Senate and get more seats in the House."
Thirty-six gubernatorial elections also will be held this year, and in Maryland, Lt. Gov. Anthony Brown is poised to become the state's first Black governor. And, a significant number of African-Americans will appear on ballots across the nation, including an unprecedented five Black women seeking statewide offices in Georgia.
CBC lawmakers also want voters to understand that casting ballots for local elections for county commissions, school boards, city councils and other representatives is immensely important, a point spotlighted by the crisis in Ferguson, a majority African-American community in which they yield little to no power. Just 6 percent of Black voters in the St. Louis suburb cast ballots in the last election cycle.
"Situations like Ferguson and [Eric Garner's chokehold death in] New York, these are things that resonate and we're going to make sure that folks know that voting makes a difference," said New York Rep. Gregory Meeks.
The get-out-the-vote effort will not be limited to Sundays, he added.
"We're also planning to hit the ground in states and visit multiple cities, get in a bus, stay together for two to three days, and we're going to be making bus stop after stop after stop, energizing the voters and letting them know why it's so important for them to vote," the New York congressman pledged.
Meeks said part of their messaging will be to make sure that voters are fully aware of incendiary and racially insensitive remarks some candidates have made, like U.S. Sen. Mary Landrieu's challenger, Louisiana state Rep. Bill Cassidy, who earlier this month accused Majority Leader Harry Reid of running the U.S Senate "like a plantation," and two years ago urged an audience to not "kick me around like a slave."
"Those are going to be issues we're gong to drill home because what we've found is Black people do come out to vote when they know it's in their interest, and we're going to make sure they know this midterm election is in their interests, just as a presidential election is," Meeks said.
BET Politics - Your source for the latest news, photos and videos illuminating key issues and personalities in African-American political life, plus commentary from some of our liveliest voices. Click here to subscribe to our newsletter.