How Vanessa Bryant Celebrated Kobe's Book Topping New York Times List
She says Kobe would be proud.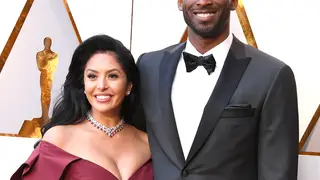 Even after his passing, Kobe Bryant continues to build his legacy.
On Wednesday (April 8), Vanessa Bryant gave a shoutout on Instagram to her late husband after his sports fantasy novel became a New York Times Best Seller.
She captioned the post, "5 championships 🏆🏆🏆🏆🏆. 5 NYT bestsellers 📖📖📖📖📖. The Mamba strikes again. 🐍👑."
Vanessa continued by saying that Kobe would've been so proud to see his work continue. And his fifth Best Seller isn't the only thing she's celebrating.
On April 4, Vanessa and her daughter Natalia expressed their joy over the announcement that Kobe will be inducted into the Naismith Memorial Basketball Hall of Fame.
"It's an incredible accomplishment and honor and we're extremely proud of him," Vanessa said in the interview, People reports. "Obviously, we wish that he was here with us to celebrate, but it's definitely the peak of his NBA career."