Watch: Minnesota Toddler Tumbles Out Of Moving Vehicle Into Traffic
The 2-year-old's mother may face charges.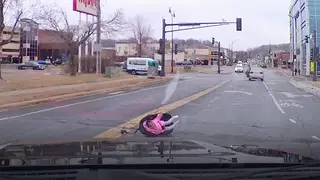 A Minnesota toddler is miraculously in good health after she fell out of a moving car while still strapped into a car seat.
The incident was recorded on witness Chad Mock's dash cam. In the video, the 2-year-old girl is ejected from her mother's car, which continues driving away.
Although the child landed in oncoming traffic, the car seat luckily landed on its side and the girl did not hit the ground. 
Mock then stopped his car, ran into the middle of traffic, and helped the little girl.
First responders examined the little girl and found that she had not been injured. Police say she was properly fastened inside the car seat, however the car seat was not correctly attached to the car.
According to police, the mother drove several blocks before realizing the little girl was not in the car. It remains unclear how the door opened in the car.
The county attorney's office said they will review the police report and see if any additional charges are applicable. The Minnesota Department of Human Services will also get a copy of the report.